By Monk and David O'Neill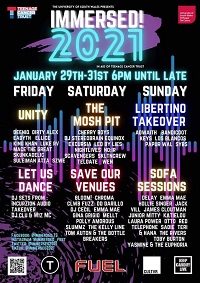 It is coming up to a year since the ÜK live music industry went into virtual shutdown, thanks to the ongoing global pan(dem)ic which has swept through the Überverse and decimated so many lives. With seemingly no light at the end of the tunnel, at least for the foreseeable future, and no sign of any form of "normal" shows, as we once knew them, returning any time soon, artists and bands have had to find new ways of engaging and interacting with their audiences, and promoting their product – never mind selling it and thus keeping a roof over their heads and allow them to plot a course into the future. While some of the bigger, more established, names have had the wherewithal to re-invent their communication and promotional channels, perhaps hardest hit have been what we can perhaps best describe as the next generation… the new breed of young, up-and-coming artistes who would have relied on blagging an invaluable support slot on a bigger bill to spread their message and showcase their talents to wider audiences… which brings us neatly to the subject (sic) in hand…
Enter the students from the University of South Wales, and particularly the campus' school of Popular and Commercial Music. Last year, with the full support of their collegiate staff, and the professional support of a number of venues across the Welsh capital, they 'Immersed' themselves in organizing their first ever festival, showcasing the best up-and-coming young musical talent, not only from the university and its ranks, but the wider region as a whole. It was one of the last major musical events to be held in south Wales before the beer bug swept into town and closed everything down overnight.
However, like so many others in the music industry, and despite having only dipped their toes in the water, the students were not put off even such a cataclysmic turn of events, and set about building on the initial success of, and lessons learned from, their debut venture and set about turning the tables on the crisis around them. Yes, like so many others in the sector, they took the 2021 iteration of Immersed online, using a combination of the university's own world-class facilities, home recordings – and even some of the venues which, all things being equal, would have staged the various gigs and showcases. And all done within the guidelines of the ongoing restrictions as laid down by the Welsh government.
As our coverage of the first two days has shown, the eclectic nature of the artists concerned meant that many of them fell outside ÜR's remit. However, our support for rising new talent is well-known, and so we asked our "Valleys Correspondent", David O'Neill – himself a lecturer at USW – to check out proceedings over the course of the weekend, and give us a brief synopsis of each and every act showcased over the weekend… So, let's catch up with his thoughts on the Sunday performances, starting off with the 'Sofa Sessions Stage' where, as its name suggests, all the sessions were acoustic solo sets, some recorded in the university facilities and others from the artists' homes.
Sadie Mulholland is a student at USW and a talented pianist/guitarist and vocalist. She opened with a track called 'Always'. She has a nice tone and range to her voice and is a very good pianist. I enjoyed this set very much. The only recorded track on Spotify is called 'Okay', which she performed in this set.
Emma Mae also did an acoustic set playing solo guitar. Her voice is clear and has a gruff edge to it in parts. Another good set from this talented young lady, with a range of heartbreaking (broken) songs and a cover of Alessia Cara called 'Here'. As well as a talented songwriter she is a very talented guitarist.
James Cloutman played guitar and sang several songs from his repertoire and some of the notes were slightly off key in them. Unfortunately, the guitar also sounded very tinny and out of tune.
Jack Vill's set looks like it was recorded in the backyard of the Tramsheds. His voice reminded me of Richard Ashcroft from the Verve. He was previously in Al Moses until they split up. He has a nice voice that will be picked up by some band soon I'm sure – unless he decides to go solo. I enjoyed that too.
Junior Mitty recorded his set in his living room. A bit of R'n'B and reggae using a looper and effects pedals. Some really catchy riffs and backing loops made for an interesting set. His guitar had a really nice tone too. It was a good set of unusual songs and effects from a talented individual.
Terri and Hannah are a duet singing to guitars and ukulele which was quite poppy and the harmonies were very good. They recorded each part separately and edited it together in four separate screens. Good effort girls.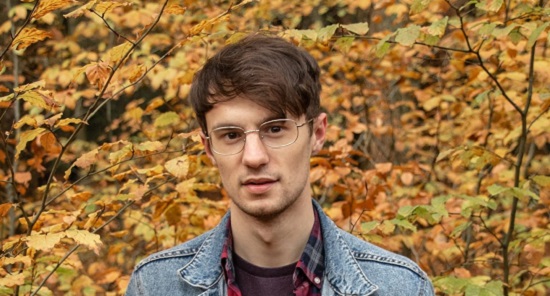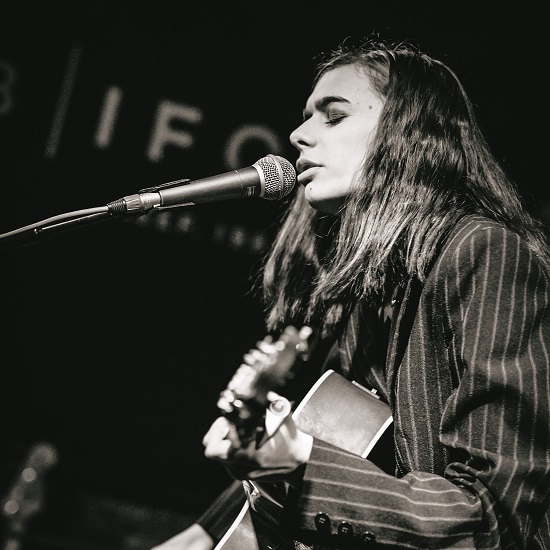 Laura Power was completely different to all the other female acts on show tonight. A unique sound and power that made her stand out from the crowd. A really good set of varied songs. One of the highlights of the night by a country mile!
Yasmine and the Euphoria are a Cardiff-based rock b A very soft blues-based rock sound for the first thee tracks continued to add to the mood of the sofa sessions. Yasmine has a great range. The upbeat track 'Lovers' really showed her range and power, reminding me of Alanis Morrisette in parts. With most of the tracks laid back it showed off the vocals of Yasmine and the ethereal guitar playing supplemented it well. Really good set.
Otto is a singer songwriter with a range in the higher register. Mainly singing using an acoustic guitar but supported by a very good backing band. Whilst not the usual thing I listen to it reminded me a bit of David Gray in his heyday. A set of predominantly ballads was a good way to end the Sofa Sessions after the chilled Sunday evening that had come before.
The highlights of Sunday for me were the university band Delay – what an amazing style and vocal performance from these four. The other one that blew me away was Laura Power – fantastic tone, power and unique style and to top it off she was diagnosed as being deaf two years ago: brilliant ambassador and superb talent.
The weekend was rounded out with the Libertino Records takeover stage. This was a showcase for the artists from Wales whose main medium is that of songs sung in Welsh, or who needed a label to get their music to a wider audience but whose main outlet is via Libertino Records.
After a message and Q&A from Libertino owner Gruff Owen, the first band on was Bandicoot from Swansea, The first track started slow and rapidly ripped up to a crescendo. A set that was a bit punky and Indie and full of energy, especially from the bass player. A variety of tracks and styles were included but none of them are on Spotify. Unfortunately for Bandicoot there was a technical issue towards the end of their set, but it was sorted fairly quickly.
Sybs are a post punk indie band from Cardiff. This was a definitely indie sound, even if I couldn't understand it. Musically it was quite enjoyable, and a perfect counterpoint to the Sofa Sessions stage. Papur Wal were a bit funky/indie, with a mix of Welsh and English vocals. An enjoyable sound from a three-piece band.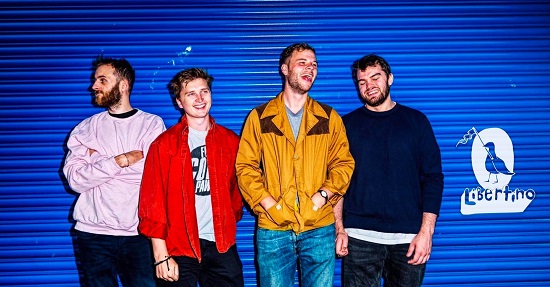 Los Blancos are a very upbeat alt-pop band from Carmarthen, full of energy and simple guitar riffs that just keep you engaged. My only issue continued to be the inability to understand what they are singing. It doesn't detract from the music though. Adwaith were winners of the 2019 Welsh Music Prize, this three-piece female band are also USW alumni. The vocalist sounded a bit like Cerys Matthews. The first track was a bit grungy, although they are described as a bit punky. Rounding off proceedings, Keys are fronted by one of USW lecturers and are one of the Libertino artists. A bit of psychedelic rock, unusually with twin drummers, from the first note I knew I was going to enjoy it. This was a treat. The singer looked and dressed like he could be a member of the Cadillac Three, although there was nothing of Southern country/rock in this set.
Conclusion:
This was a very successful venture from the students and staff of USW and all the artists involved. The themes helped keep the music together for people watching it online and, apart from one technical issue on Sunday night with Bandicoot on the Libertino stage, it went off without a hitch and no dead air. In changes between acts interviews with artists and students were readily interspersed.
The opportunity to jump from stream to stream was very useful, especially for any press who were reviewing the festival in its entirety.
The organization, recording and editing were all exemplary. The website and social media coverage was also very good. There were only a few sound issues on the smaller stages, but these did not detract from the festival experience. I'm sure there will be opportunities for the students to jump in and crew some venues on the back of this.
The opportunity for some of these bands to play at the Tramsheds, with all the professional quality gear in use, must have been a real boost to their confidence, despite there not being an audience other than the crews.
Well done University of South Wales staff and students, and very well done to all the artists and bands that provided the breadth of talent on show.
All content © Über Rock. Not to be reproduced in part or in whole without the express written permission of Über Rock.