By Bona Pjarren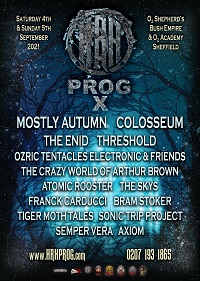 With only one stage this year, it's time for HRH Prog. I assume they have been limited due to bands being unavailable due to Covid. But there are still 14 bands to fill the line-up over the two days. On top of that HRH are putting on another Prog show in London at the same time, the line-ups swapping venues, i.e., the bands playing Sheffield on the Saturday play London on the Sunday: that must be a logistical nightmare. Just as well they only have the one stage to organise in the O2 in Sheffield. Covid restrictions are in place again, a Covid passport or proof of double inoculation is needed to gain entry, though masks are optional. It is a mainly seated venue this time. I am accompanied by Gordon Goligher who will be contributing his thoughts on the various acts as well. And so, without further ado, let's get started on this fine Saturday afternoon with the first band:
Not to be confused with the Aussie rockers from the 1970s, Axiom were formed in 2017 and come from Birmingham: not southern hemisphere… just south of Sheffield. A three-piece with injected beard power – all hail the mighty beardage – and a wide range in musical influences, including metal and mathrock. I really enjoyed this power trio. They have obviously worked hard on their composition, paying careful attention to how their instruments interact with each other. Guitar and bass link nicely together, and with intricate drum patterns there is an obvious nod towards Tool. I particularly enjoyed 'Believe' and 'Serpentine' and felt they probably deserved a higher slot in the running order.
Deviant Amps were formed in 1982 by Paul Woodright and are very well known on the festival underground scene, over the years playing stages at Cosmic Puffin, Blind Cat and Kozfest to name but a few. They have built a formidable reputation for playing their own unique take of epic space rock. They have just released 'Countdown To A Cosmic Ego Death' on Damp Recordings: what a title – just trips off the tongue! It's so prog. Needless to say they played a few numbers from this album. With songs such as 'Hypnotiser' and 'Can You Feel It ' they soon got parts of the crowd dancing. Gordon felt the vocals were muffled, and there was feedback when the engineer tried to correct this.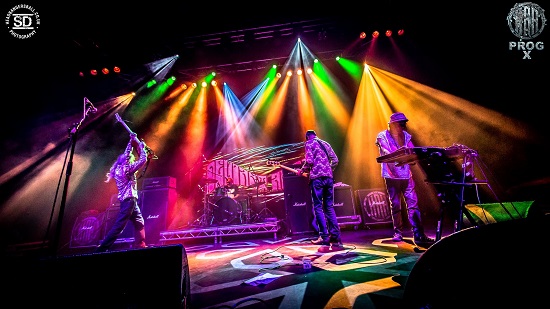 Brighton based rockers Bram Stoker are next up… surely, they should come from Whitby! They have been going since 1969 and the only original member left is Hammond organist Anthony Bronsdon. For this incarnation he is joined by lead guitarist Neil 'Nog' Richardson, drummer Warren Marks, and bassist Jo Marks. Their last release was 'No Reflection', in 2019. Roving time signatures underpin a classic Hammond sound delivered on a pair of Roland keyboards. Tony did relate to me that he had recently got rid of his Lesley rotary speakers which he deeply regrets, I'm not surprised, it's an iconic sound. They did have a technical problem with the keys which delayed their start and ate into their set time. But once they got over this, they got on with their '70s style classic progressive rock sound and it was spell binding. For a start any band called Bram Stoker needs a big gothic organ sound and this they had thanks to the pair of Roland keyboards. Neil's guitar work is at times reminiscent of Steve Hackett. With tracks like 'Otranto', Ballad of the Bogeyman,' and 'Terminate' they made a worthy addition to the bill.
From the creator of 'The God Of Hellfire', Arthur Brown needs no further introduction. An artist who has stood the test of time and still draws a crowd today. He released his most recent album 'Gypsy Voodoo' back in 2019.
I have seen Arthur a couple of times over the years, but never with a full band. He does 'Fire' three tracks into his set. With various costume changes, accessorized with the ubiquitous Arthur Brown head gear, he is a tour de force as a front man. He soon has the audience eating out of the palm of his hand and the whole performance is mesmerizingly eccentric. But the most outstanding thing about an Arthur Brown concert is the voice: his range is world class but the way he uses the quality of his voice is inspired. All this makes Arthur Brown a timeless phenomenon.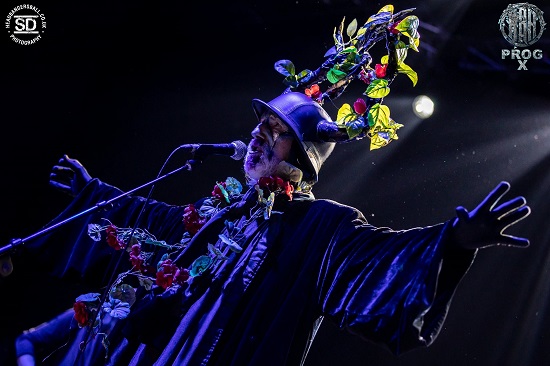 Well, here is a reunion of sorts… For those unaware, original Atomic Rooster organist Vincent Crane and drummer Carl Palmer were originally members of The Crazy World of Arthur Brown: small world, isn't it? Having said that neither are still with the current line-up. I particularly remember 'Devil's Answer'. Atomic Rooster reformed in 2016 with permission from Vincent Crane's widow and feature two original members (Steve Bolton and Pete French) from the 1970s. They have kept to the original material and have not released any new albums since reforming. Kicking off with 'Can't Take No More' accented with a roaring Hammond organ courtesy of Adrian Gautrey and stylish guitar work from Steve 'Boltz' Bolton they launch fearlessly into their set. There is some nice duelling between guitars and keys, which is a constant theme through tracks such as 'Black Sheep, I'm The One,' and culminating in the classic 'Tomorrow Night'. I had almost forgotten how much I liked this band back in their heyday Then comes 'Indecision' a fantastic ballad with striking keyboard work that really showcases Pete French's powerful vocals. Their final song was of course: 'The Devil's Answer.' Great set guys!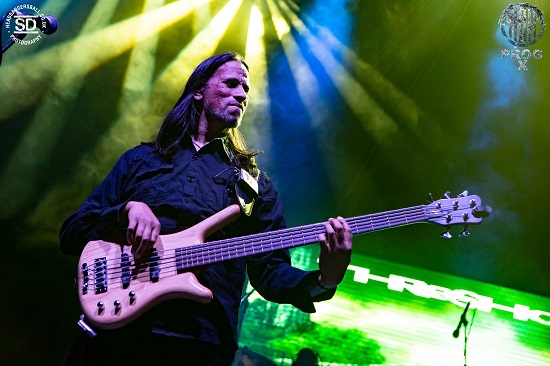 Surrey-based Threshold were formed back in the 1980's and are a progressive metal band. Their last studio album release was 'Legends Of The Shires in 2017, although they have released a live album since then, in 2018's 'Two-Zero-One-Seven', and there is an as yet untitled album in the pipeline for release in 2022.
Karl Groom's soaring electric guitar and inspired keyboards from Richard West combine with a solid rhythm section in the form of Johanne James and Steve Anderson to give a solid foundation. Add to that the powerful rock vocal of Glen Morgan and you have a compelling mix of symphonic progressive metal with attitude. Performing such tracks as 'Stars and Satellites' or their epic live version of 'The Art of Reason' states why they are placed so high up the bill. There are rousing performances of 'The Shire Part 2' and 'Lost In Translation' to finish off.
How do you define The Enid? They're different. With a rich heritage of classically influenced prog rock thanks in part to the input of Robert John Godfrey. Unfortunately, Robert has been ill due to Alzheimer's, so imagine my joy when he walked through the door! The band has managed to achieve their goal of being full time musicians thanks to the support of a group known as The Enidi, and this has made a huge contribution to their musical abilities. Their last studio album was released in 2019, entitled simply 'U'. And, so, onto the gig.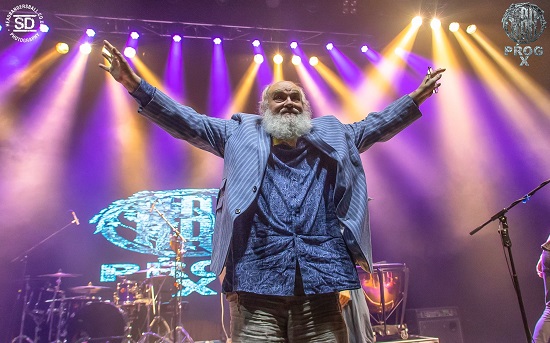 And it starts with big marching riffs, classically inspired they guide you into The Enid's reality. After all the great bands I have witnessed today, it really needed something special for the final act and The Enid provide that in abundance. There are nods to great classical composers, which showcases their deep and meaningful love affair with music, I feel privileged to be allowed to witness it. 'Sheets of Blue' is followed by 'In The Region Of The Winter Star'; but the set list doesn't matter, I watch The Enid for the whole experience. It is a series of exceptionally crafted mini symphonies that transport you to unexpected and wonderful places. They finish their set with 'Malacandra' and 'Shiva' from the 'Journey's End' project and they are stunning.
Of course, they got an encore. Did you expect any less? Robert made the comment about disliking being told what to think and proved his point with a wonderful cover of 'Land Of Hope And Glory' or 'Land Of Dope And Tory', depending on your preference. Good music is good music and shouldn't be sullied with political undertones. A fantastic show from a truly unique band.
Well, that concludes Saturday's entertainment. We're all back tomorrow for the next instalment…
Photo credit: All photos taken at the O2 Shepherds Bush Empire on Sunday 5 September and © Simon Dunkerley/Hard Rock Hell. Copyright remains with the photographer.
HRH Prog XI, headlined by Rick Wakeman and Wishbone Ash, takes place at the O2 Academy in Sheffield over the weekend of 2 and 3 April 2022.
All written and audio content © Über Rock. Not to be reproduced in part or in whole without the express written permission of Über Rock.