By Monk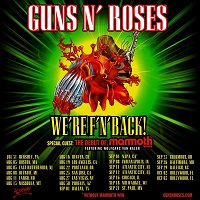 Are Guns N' Roses, as they themselves declare, "F'N BACK"? Well, if this, the first new recording released since the Slash and Duff McKagan reunited with Axl back in 2015, is anything by which to judge, then the answer is quite possibly, and affirmatively, "HELL F'N YEAH"!
The song, which is also the band's first new recording in 13 years, is a reworking of an older one, 'Silkwood', which was an out-take from the 'Chinese Democracy' sessions, and which also surfaced in several demo formats over the intervening years.
The new version has been almost completely re-written. It features a virtually unrecognizable, effects-laden vocal from Rose, but one which is nevertheless snarling, confrontational and brimming with "zero fucks given" attitude. This is perfectly complemented by a trademark Slash riff, which bites and snaps with unbridled passion, giving the song the overall feel of a punkier, brasher, faster 'Welcome To The Jungle'.
Yep, never mind one of the notorious bands in the history of rock 'n roll being F'N BACK… it's as if they've never been away… And there is definitely, and defiantly, nothing 'ABSUЯD' in that assertion…
All content © Über Rock. Not to be reproduced in part or in whole without the express written permission of Über Rock.