By DJ Monk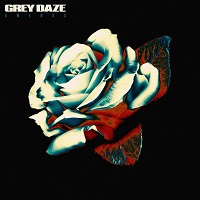 It would be extremely easy to dismiss this, a collection of songs written by Chester Bennington and previously only recorded as a series of demos with the members of the high school band of brothers he briefly fronted before going on to find his ultimately-doomed international stardom as frontman of nu-metal superstars Linkin Park, as something of a belated money-spinner, a cashing-in on the memory of a fallen hero. But, that is to do a severe injustice to this project, which genuinely captures a moment in musical history and brings it back to startling, poignant life in a way in which its progenitor no doubt would be justifiably proud.
Regular ÜR readers will be familiar with the Grey Daze back story, but it deserves a quick refresher to put this extremely emotional and important album into its proper context. Just a few short months before he subsequently took his own life, and with Linkin Park planning to take a lengthy hiatus to recharge their collective batteries, Chester Bennington revealed that he had hooked up once again with a bunch of friends from his teenage years back in Arizona, with the intention of finally completing, some 20+ years later, the album which they had never got around to fully recording, never mind releasing – and even announced plans to take the band back out on the road. Ultimately, however, history took another of its inevitable twists and Bennington finally succumbed to the demons which had pursued him most of his life…
It took two years for the remaining members of Grey Daze – drummer Sean Dowdell, bassist Mace Beyers and guitarist Cristin Davis – to re-enter the studio, with the full co-operation of Chester's widow Talinda and son Jaime (who also guests on the album and directed one of the accompanying videos) and set about re-recording the 11 songs, all the while matching them to Bennington's vocals, in the knowledge that while these could be remastered and given a fresh lick of modern production paintshopping they could not be inherently altered, as that would be to disrespect both the process and, more importantly, the artist himself.
While the overall sound of the album veers more towards the alt-rock sound that has become something de rigeur in more recent years, it is very much obvious that this is also the sound of a craftsman still very much serving his apprenticeship, as there are clear indications of what would later be brought to full fruition with Linkin Park and 'Hybrid Theory', not least on opener 'Sickness', where that familiar voice resonates and captivates as much as it did on the first listen to 'One Step Closer' or more especially 'Paper Cut', albeit in a much rawer and less formed manner. The anxiety and pathos which would later characterize Bennington's LP performances is also very much evident, in its most nascent form, declaring as he does ""maybe things will get better, maybe things will look brighter" on 'Sometimes'. Or when he simply asks, "are you happy?" at the end of 'The Syndrome'.
'Amends' is a cathartic, haunting album. It is, as the PR blurb says, "the origin story of one of modern rock's most recognizable voices and also a full circle moment among friends". It is one that speaks of that friendship, the remaining band members ensuring that their friend's legacy remains intact and respected. It is also an early cry for help from someone who used his lyrics as just that, a series of what could now be regarded as suicide notes from someone on the edge, struggling to cope but trying to do so through the empowerment of his music, and his global recognition, only to find that, no matter how loudly he shouted, the demons inside shouted louder. And for that reason, and that reason alone, this album DESERVES to be heard. It is a fitting tribute to an artist who, too late perhaps, can be regarded as one of the art form's most important and vital voices.
'Amends' is released on Friday (26 June). You can get your copy HERE.
All content © Über Rock. Not to be reproduced in part or in whole without the express written permission of Über Rock.