By DJ Monk and The Dark Queen
I remember now… and it seems like only yesterday. It was late 1983 and I had wandered into my local record store looking for the latest hot new metal releases. The owner, Pete, knew my tastes and suggested an EP of which he had obtained just one copy of: despite its otherwise bland cover, I was intrigued by the band's logo. Pete slipped it onto the shop's stereo system – and a fucking massive scream absolutely knocked me for six! Wow, what a voice… It was that of Geoff Tate, and the EP was the then recently re-released four track debut from Queensrÿche.
I remember now… and it seems like only yesterday. It was Hallowe'en night in 1990, and Queensrÿche ripped Belfast's iconic Ulster Hall a new one. Despite promoting their 'Empire' album, the Seattle band played the whole of their iconic 'Operation: Mindcrime' in its entirety. It was so loud that, standing at the back of the venue, I could feel its four-foot thick Victorian walls vibrating. It was the only time I would see the original version of Queensrÿche live (I did catch the Todd LaTorre version a few years back, but they weren't a touch on what I had seen that night) … Wind the clock forward a trio of decades and the band's original frontman is making his third appearance in ÜR's adopted hometown of Belfast in less than as many years: having somehow contrived to have miss his previous two appearances in the very same venue, there were no excuses this time around to prevent us venturing up the road from ÜRHQ to see if the man in question still possesses THAT voice: and we'll answer that question very shortly…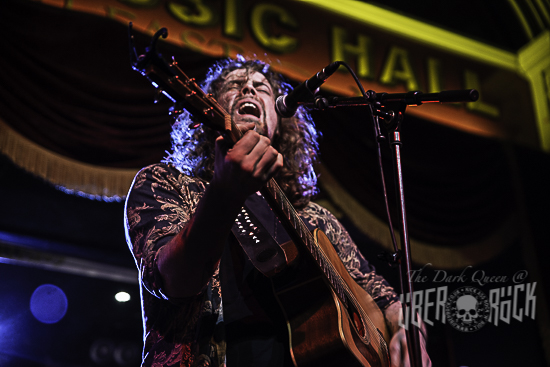 Tate obviously believes in keeping things in the family, so to speak: not only is his daughter Miranda selling the merch (which is flying off the table) but the task of opening proceedings falls to Mark Daly, who was a member of the original incarnation of Operation: Mindcrime, and his band. Their acoustic-led classic rock is very much in the vein of Blackberry Smoke and The Temperance Movement, with their neat and tidy tunes filled to the brim with decent country blues vibes. Daly himself has a pleasant voice of the sort that reminds of Myles Kennedy in his mellower moments, while DQ reckons that his very talented guitarist (James Brown?) could "eat and shit Joe Bonamassa for breakfast, dinner and supper". Not a bad start then…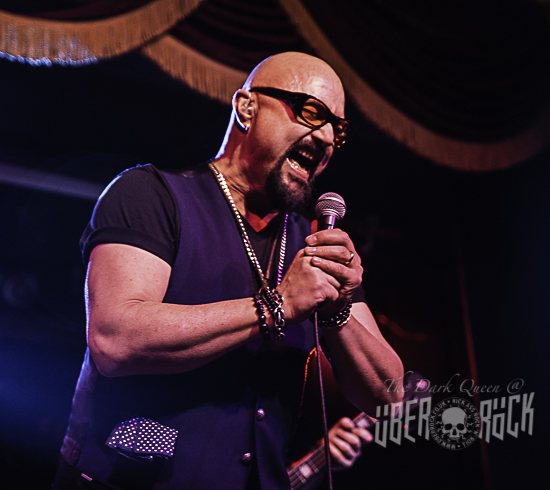 Two things are immediately obvious as soon as our headliner takes to the cramped stage: there is a sense of urgency, as the elongated instrumental intro from YouTube footage of previous shows is dropped – and, yes, Tate still does have THAT voice: alright, he uses the lower end of his register a lot more, in a concession to the changes that age brings, but he can still hold a note longer than many opera singers of similar vintage can manage…
He quickly acknowledges the frequency of his visits to this particular corner of the Überverse: "three straight years, three different sets of music", reminding us that his first visit had been an acoustic set, his second a recreation of the album from which his solo project takes its name, with this one billed as a 'greatest hits' set… "Tonight is all the old shit, some of which is so old I might forget the lyrics, so I'll be reading all your lips," he jokes – and, yes, he is using a tablet as a prompter! Not that the audience needs any prompting to sing along, as by 'Operation: Mindcrime' itself the Empire choir are threatening to raise the roof in a way their predecessors in this converted church could only imagine in their wettest dreams – and we're just three songs in!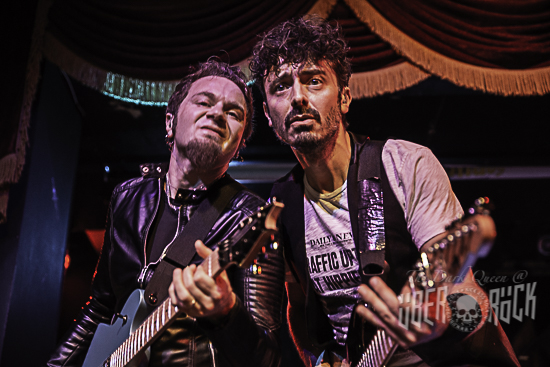 The advertisement of 'greatest hits' might be stretching it a bit, as Queensrÿche were never hugely successful in the singles stakes, but it certainly is a career spanning 'best of' listing, as Tate speaks the word and then spread the disease before heading right back in time to 'Take Hold Of The Flame', during which DQ leans over to declare that the singer is making the hairs on her fanny stand on end! No greater compliment can any singer be given!
With the band tighter than a priest's fist, it's something of a surprise that they quit the stage after just an hour: but, of course, they're soon back front and centre as Tate declares "a lot has been written about this song… people have got married to it, got buried to it, had children to it – and I've been crucified for it". Yes, it's 'Silent Lucidity', and the aural experience is still just as powerful as that night 29 years previously.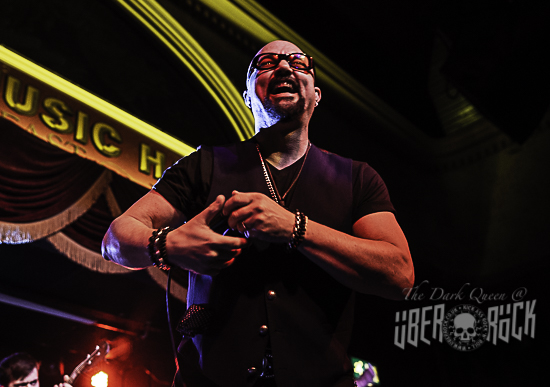 While his former band, on whose legacy he is undoubtedly (and justifiably) trading, have stuttered and stalled, at least creatively in recent years, Tate still knows how to put on a show. Yes, as I said, his voice may be a bit lower, but he's still some chanter, and possessed of an undeniable charisma which will continue to endear him to generations of fans as long as he decides to continue doing what he's doing: maybe next time he returns, we'll be treated to a fourth different set of songs, in terms of his own solo stuff (well, there are rumours of a new album in the making).
PHOTO CREDIT: All photos © The Dark Queen/Über Rock. You can view our full gallery of photographs HERE.
All content © Über Rock. Not to be reproduced in part or in whole without the express written permission of Über