By DJ Monk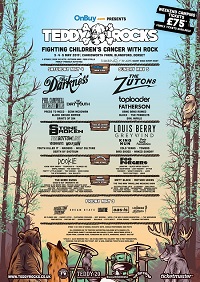 The full line-up has been confirmed for this year's Teddy Rocks festival, which takes place at Charisworth Farm in Blandford, Dorset, over the weekend of 3-5 May.
Joining headliners The Darkness and The Zutons, Stone Broken will top the second stage bill on the Saturday, while Loathe have been added to the Friday night line-up.
"This is our biggest line up yet!" exclaimed Teddy Rocks organiser, Tom Newton.
"The Darkness and The Zutons have some of the biggest hits of our generation and being able to bring them to our small town is an honour. We are working harder than ever to keep growing the festival and to help make a positive impact on so many children's lives affected by Cancer. The more people that buy tickets for this event, the more good we can do for those who need it! Please come and join our fight and have the best time whilst doing so!" –
All proceeds from the three-day bash go to the cancer charity Teddy 20.
Teddy Rocks started from humble beginnings in a country pub, The Greyhound in Blandford, north Dorset in 2012. Founder of TRF, Tom Newton, wanted to help fundraise for the charity Teddy20, which was started by his parents to raise money for children and families fighting cancer after the sad loss of his brother, Ted Newton, who was 10 years old when he lost his life to a rare bone cancer.
To date, the festival has raised more than £250,000.
In 2016, Teddy Rocks moved to a field to increase capacity and in 2017 the festival took the relocated to a bigger premises, and secured a permanent license at its new home, Charisworth Farm. In 2018, the festival raised more than £83,000.
Tickets are available HERE.