By DJ Monk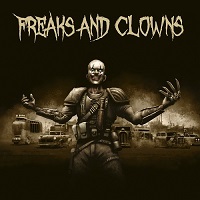 Freaks And Clowns trace their roots back to 2017, when Astral Doors drummer Johan Lindstedt and an old friend, singer Chrille Wahlgren found themselves messing about in a studio in their home town of Borlänge (in central Sweden) and swapping song ideas. Before they knew it they had the bones of 16 songs pulled together, so Lindstedt put in a call to bandmates Mats Gesar and Ulf Lagerström to rediscover their love of classic heavy metal.
The result is an album very firmly rooted in that just mentioned mien, ploughing a furrow that will be immediately identifiable to fans of the Teutonic twist on the genre in particular, not least because of Wahlgren's uncanny vocal similarity to the likes of Udo Dirkschneider, a young Klaus Meine and, in particular, Rolf Kasperek. And the likes of Accept and Running Wild are apt comparators, as Freaks… deliver the same sort of no-nonsense straightforward HM that their Germanic counterparts have made their own for the past number of decades.
That's not to say that 'Freaks…' is any way a mere copycat of what has gone before. Because, these five seasoned musos (the line-up is completed by second guitarist Mathias Henrysson, who may be known to some writers via his work with Chainwreck) have enough savvy to stamp their own identity on their contribution to the NWOCM sub-genre that has emerged in recent years, making an album that sounds fresh, relevant and forward looking rather than merely staring longingly over its shoulder to past glories.
'Freaks…' does exactly what it says on the tin, and that is deliver 11 solid slices of proficient heavy metal, with rambunctious riffs, huge harmonies and hooks and massive melodies, all underpinned by rhythms tauter than a would tightrope and overtopped by Wahlgren's complementary and convincing vocals. Each song is expertly constructed, not straying too far from the expected norm but also containing enough sidebars to maintain the listener's interest for the album's duration. Tracks such as album opener, and lead single, 'Demons In Disguise' and 'All Hell's Breaking Loose' will guarantee that you'll be reaching for the heat rub to soothe your aching neck muscles afterwards, 'Thunder And Lightning' and 'Breaking All Rules' will have you punching the air and singing yourself hoarse along to the suitably inane choruses, while the likes of 'Creatures Of The Night', 'Heartbreak City' and 'King Of The Sun' are glorious in their celebration of the more bombastic side of all things metallic.
All in all, this is an album which achieves what it set out to do, and that is capture its creators' love of good old-fashioned heavy metal. And you can't say fairer than that.
'Freaks And Clowns' is out now. You can get your copy HERE.
www.facebook.com/freaksandclowns
All content © Über Rock. Not to be reproduced in part or in whole without the express written permission of Über Rock.