By Jim Rowland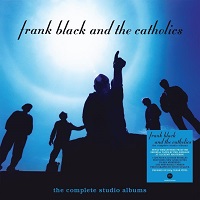 Frank Black (or Black Francis) is of course best known for his pioneering work with the hugely influential Pixies. Outside of the Pixies, Black has a sizable back catalogue of solo albums under his belt, including the six albums recorded under the 'Frank Black & the Catholics' moniker between 1998 and 2003. For almost two decades, the Catholics' studio albums have been out of print or unavailable on vinyl. Now, Demon Records releases 'The Complete Studio Albums' boxset featuring all six original releases, three of which are receiving a first ever vinyl release.
So firstly, exactly what's in the box? The six albums in question are 'Frank Black And The Catholics' (1998), 'Pistolero' (1999), 'Dog In The Sand' (2001) [first time on vinyl], 'Black Letter Days' (2002) [2LP, first time on vinyl], 'Devil's Workshop' (2002) [first time on vinyl], and 'Show Me Your Tears' (2003). Each album is pressed on heavyweight 180g clear vinyl (crystal clear, not that murky 'clear' vinyl you often get) and each one has a printed inner sleeve with the outer sleeves looking pretty fantastic with an attention to detail with spot gloss finishing. Each one really is a beauty. The albums are housed together in a rigid outer sleeve, again with spot gloss finishing, and accompanied by a 32-page booklet featuring new liner notes by Catholics producer/engineer Ben Mumphrey plus unseen and rare photographs. Demon do have a great reputation for their vinyl reissues, but I have to say in this case they have excelled themselves.
Each album has been newly remastered from the original studio tapes by Phil Kinrade at Alchemy Mastering at AIR, and in total we're talking 80 tracks across the whole thing. For all of these Catholics albums, Black rejected the multi-track recording technique in favour of a basic live to two track process, capturing each track as a raw, authentic band performance with no overdubs. That doesn't of course mean any sacrifice in sound quality, and indeed the sound quality across these albums, especially with the remastering, is top notch and in your face. As the albums progressed he would add more musicians to flesh out the sound and add more textures and flavours.
The first two albums, 'Frank Black & the Catholics' and 'Pistolero', pack a particularly powerful punch. Working away from the Pixies enabled Black to indulge in a few different influences away from the quirky punk influences of Pixies, perhaps with a slightly straighter rock approach. The subtle influence of the likes of Lou Reed, Bob Dylan and Neil Young is certainly evident on the first one, and tracks like 'Dog Gone' illustrate the song writing is of the highest quality . 'Six Sixty six' also signals the country influence that would become more evident as the albums progressed. The second album 'Pistolero' is particularly strong, more consistently heavy, raw and more Pixies-leaning than the others.
From 'Dog In the Sand' onwards, the raw aggressive guitar approach is toned down a few degrees, with country and folk influences coming more to the fore, as more musicians, including former Pixie Joey Santiago, are introduced. The sprawling double album 'Black Letter Days' is a peach and, along with 'Pistolero', my pick of the bunch here. The addition of pedal steel and slide guitar gives the majority of the album a stronger country rock flavour, with '1826' being a belting blues rocker, and 'The Farewell Bend' illustrating the folk influence too.
'Devil's Workshop', whilst recorded at a different session, was actually originally released on the same day as 'Black Letter Days' and, although it certainly has its moments, pales in comparison, and comes across as a bit less focussed. If there is a weakest link with these albums, this is probably it, but you are comparing it to five other albums of immense quality. Much better is 'Show Me the Tears', the final album the band would release. Like 'Devil's Workshop', it's a varied album but the material is strong, binging together elements of country, folk, jazz, pop and rock. 'Massif Centrale' illustrates that the connection to the Pixies style remained, and indeed it wouldn't be too long after this album that the Pixies reunited.
If, like me, you're someone who admires the Pixies but didn't really explore Frank Black's solo material to much of an extent, this box set opens up a whole new world of quite wonderful music, packaged in quite spectacular fashion. If you are familiar with these albums, you won't have them packaged together like this in glorious remastered coloured vinyl, so it's definitely time for an upgrade. Wonderful stuff.
'The Complete Studio Albums' is released on Friday (8 July). You can get your copy HERE.
www.facebook.com/frankblackfrancis
All content © Über Rock. Not to be reproduced in part or in whole without the express written permission of Über Rock.