By Monk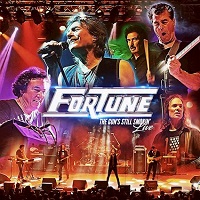 I must admit that, despite the band having been formed in the mid-Eighties, I was completely unfamiliar with LA melodic rockers Fortune before the second iteration of the late, much-lamented Rockingham festival back in 2016. Their couple of minor hits and self-titled album completely by-passed me first time around: as I said at the time, maybe I had better things to do than listen to a bunch of Styx/Toto wannabes? To be equally honest, as I said in my review of that reunion performance, they didn't do much to stir this particular hardened rock 'n' roller's loins, with their straightforward classic AOR. But, 12 months later, they were back for a second successive year, as a result of which they were picked up by Frontiers Records for their second album, which finally surfaced in 2019 – a full 34 years after their debut release!
While Rockingham has now fallen by the wayside after just four short years of existence, this live album is a worthy reminder of how both it and its predecessor, Firefest, were responsible for resurrecting the careers of many fallen idols of the AOR/melodic rock genre. While Fortune may not have overly grabbed my attention on either of their visits to the basement of Nottingham University's rather impressive little venue, there was no doubting the quality of their performance, and that is something which most definitely comes across on this disc, recorded at last year's edition of the also now defunct Frontiers Festival.
As regular readers will know, like most of our contributors I'm not a big fan of live albums, as they often fail to capture the energy of the performance(s) in question, but it has to be said that 'The Gun's Still Smokin' – Live' actually does stand on its own two feet. Yes, like the band's sound, it's a bit clinical, but it does capture the polished essence of the band: the crisp vocals, the carefully crafted melodies, the intertwined guitar melodies, the combination of lightweight, memorable choruses and dark crunching bottom end that exemplifies well-crafted AOR. Yes, there may the odd set of balls of missing, but this nevertheless is an exemplar of this particular genre at its most accurately portrayed.
'The Gun's Still Smokin' – Live' is released on Friday (7 August). You can get your copy HERE.
www.facebook.com/fortunerockers
All content © Über Rock. Not to be reproduced in part or in whole without the express written permission of Über Rock.