By Monk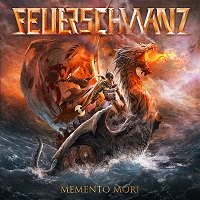 When it is at its best, power metal, by its very nature, is gloriously bombastic, gloriously OTT, gloriously pompous – and gloriously cheesy. And, in terms of current purveyors of the genre, they don't come any more gloriously bombastic, gloriously OTT, gloriously pompous – and gloriously cheesy – than Teutonic titans Feuerschwanz, who have become firm favourites here at ÜRHQ since our paths first crossed a little more than 18 months ago – during which time they have twice won our coveted 'Video Of Week' title with their equally glorious, and massively tongue-in-cheek, visual presentations.
Sonically treading a path somewhere between the battle metal of Sabaton and the uplifting folk metal of the likes of Ensiferum, Feuerschwanz touch base with all the tropes of both subgenres and the main PM mien. Searing guitar solos dart in and out between whirling dervishes of flute, hurdy-gurdy and violin; massive melodies soar and glide with cinematic scope; huge choral choruses counterpoint crunching, punchy riffs; all underpinned by driving, precise rhythms which add to the sense of power and energy prevalent throughout.
Similarly, the lyrical tropes are also all omnipresent: Vikings sailing into the unknown in search of plunder ('Untot im Drachenboot'), a warrior mourning his fallen father ('Das Herz Eines Drachen'), a hero taking on almost insurmountable in a seemingly doomed quest for revenge ('Hannibal'). Hell, given the timing of the album's release, they even manage to throw in a "Christmas song", as they retell the legend of 'Krampus' in a way which deserves to be sung from every cathedral in the Überverse.
For the second album in a row, 'Memento Mori' comes with a bonus CD of cover versions, interpreted in the band's own inimitable style. Last time around, with 'Die Sieben Todsünden', they treated us to renditions of tracks by Ed Sheeran and German dance act Seeed. This time around, 'Die Glorreichen Sieben' sees them tackling the likes of Swedish melodeath giants Amon Amarth, Moldovan Eurodance act O-Zone, Canadian producer/singer The Weeknd (who seems to have been a popular choice for metal covers this past year) – oh, and Manowar! The deluxe edition also comes with a CD containing instrumental versions of the main album tracks… but TBH that's probably of interest to diehard fans only!
If you like your power metal gloriously bombastic, gloriously OTT, gloriously pompous – and gloriously cheesy – then 'Memento Mori' definitely ticks all the boxes and should be top of your shopping list for spending all those lovely vouchers you've just received from various family members this past weekend.
'Memento Mori' is released on Friday (31 December). You can get your copy HERE.
All content © Über Rock. Not to be reproduced in part or in whole without the express written permission of Über Rock.