By DJ Monk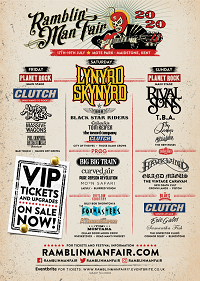 Rising blues rockers Rival Sons have been confirmed as the final headliners for the 2020 iteration of the Ramblin' Man Fair.
They join Friday night headliners Clutch (who will play a total of three sets over the course of the weekend) and Saturday bill toppers Lynyrd Skynyrd. The fact that the Sons have been given equal billing to the godfathers of southern rock is a sign of how much the Nashville quartet have ascended in the last few years.
Elsewhere, the Ramblin' Man bill features the likes of Monster Truck, Massive Wagons, Black Star Riders, Tom Keifer, The Quireboys, Big Big Train (who headline the Prog stage on the Saturday) and Hawkwind, who headline the Grooverider stage on the Sunday.
Ramblin' Man Fair takes place at Mote Park in Maidstone over the weekend of 17 – 19 July. Tickets are available HERE.