By DJ Monk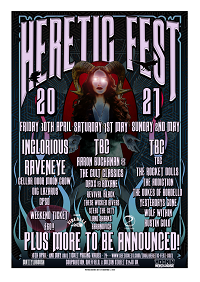 Heretic Fest, the one-day NWoCR event which was due to have taken place in Sheffield at the beginning of July, has revealed that it will become a three-day affair when it moves to next year's May Day Bank Holiday weekend.
The new look event will take place at the city's Corporation venue from Friday 30 April through to Sunday 2 May.
Organizer Hannah Mae Fellows explained how the new event will work:
"The bands due to appear on the original day have now been scattered across the weekend and joined by some more fabulous acts. 
"Friday will see the current line-up. However, as this is a Friday, [and] a lot of you will most likely have work, so the day will start at 5pm and there will be five bands performing from the original line-up including Inglorious, RavenEye, Cellar Door Moon Crow, Dig Lazarus and CPSD!
"[On the] Saturday, we have many new acts joining the bill: Aaron Buchanan & the Cult Classics will be main support, along with Daxx & Roxane, Revival Black, These Wicked Rivers, Steal The City, Land Sharks and Baranovich. [On the] Sunday, we have more insane acts: joining us are The Rocket Dolls, The Addiction, The Dukes of Bordello, Yesterday's Gone, Wolf Within and Austin Gold. [There's] still more to be announced across the weekend, including [the] Saturday and Sunday headliners!"
There now will be various pricing tiers for the new event, with Friday tickets costing £20, and Saturday and Sunday day tickets costing £25 each. Weekend ticket will cost £60.
Hannah Mae explained how the new ticketing arrangements will work:
"Anyone who has purchased a ticket for this year, your ticket will be valid for FRIDAY ONLY. To upgrade or swap tickets, please contact your point of purchase for a refund, and purchase new tickets with the correct dates. If you have purchased these from a band member, and would like to swap for a day they have moved to, please get a refund from them, and once they have the new tickets, they can resell to you at the new prices. Anyone who has bought from a band member and wishes to purchase a weekend ticket, please get a refund, and purchase a weekend ticket from the See Tickets web link.
"I apologise for any inconvenience this may cause."