By Jason Walker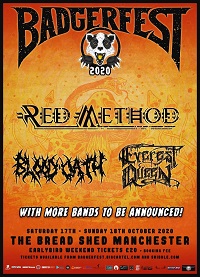 Manchester's local grassroots music festival, Badgerfest, has dropped its first announcement, coming out the gates with three strong acts: Red Method, Blood Oath and Everest Queen.
After three successful years of shows and building up a level of infamy for being a well-run, local music festival, Badgerfest returns to the Bread Shed in Manchester with a slight change in days, with the event taking place on Saturday 17 and Sunday 18 October. Previously this was a Friday/Saturday affair, but some adjustments were made based on attendee feedback from 2019.
No doubt this year will be set to be another big step forward for Badgerfest and you only need to check their previous years to see how far this event has come. Last year boasted an incredibly diverse lineup going from hardcore and Djent, all the way to doom and shoegaze.
Über Rock, who are delighted to be partnering this year's weekender, are definitely looking forward to seeing what else is to be added to the line-up: no doubt we will see some big names in the Manchester scene popping up!
Tickets are on sale now.