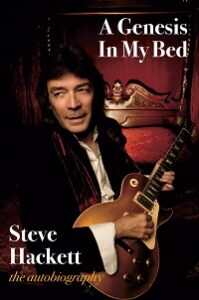 Guitar hero Steve Hackett is to publish his autobiography, 'A Genesis In My Bed', on 24 July.
The book is described as "a highly detailed, entertaining and embracing tome that charts his life in full, but with a firm emphasis on his years with Genesis that saw the band's meteoric rise to become one of the most successful British bands of all time".
Steve is described as talking "candidly about his early life, his time with Genesis, and in particular his personal relationships with the other four band members, with great insight into the daily goings on of this major rock band". Naturally, 'A Genesis In My Bed' also covers Hackett's career since leaving Genesis and the many different journeys that it has taken him on.
A limited edition of 1,000 copies, individually numbered and signed by Hackett, are available to pre-order directly from the publisher and the artist himself.
Meanwhile, Hackett will be taking the latest of his 'Genesis Revisited' tours on the road in November. On this occasion, he will playing Genesis' 'Seconds Out' live album in its entirety.