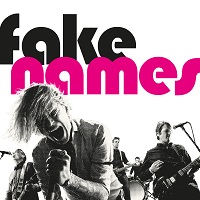 For a new band, there's quite some weight of experience behind Fake Names. Vocalist Dennis Lyxzén is of hardcore, near 20 years aged, punk band Refused while guitarist Brian Baker is an original member of Minor Threat and has been with the legendary Bad Religion since 1994. Baker formed the idea for the band with his mates – none other than Michael Hampton (S. O. A., Embrace) and Johnny Temple (Girls Against Boys). Hence, while I hate the term, with friends like that, Fake Names more comfortably fall into the category of punk 'supergroup'. 
The bands moniker is apparently a nod to, or hopefully a head-butt to the face of, the modern phenomena of fake news and given the genre and preceding reputations of the individual members, their close knit relationships and the years they've had to hone their craft,  I'm looking forward to hearing what else they have to say. In true punk style they'll say it quick. This  self-titled debut runs at just under half an hour long.
First out of the gates, 'All For Sale' kick-starts the album nicely, a predictable but rhythmic rant against capitalism. An incessant drumbeat provides the background as Baker and Hampton play off each other, their musical connection forming an instantly memorable track. 'Driver' feels lighter in contrast … too light, but that's OK because it's short and 'Being Them' kicks it out the way, picks you up and  shakes you about with attitude enough to remind you of who you are listening to. The lyrics berate the sheep of today's society, slaves to monotony as Lyxzén screams "I can't escape the noise that's ringing in my head".  Me neither, this is definitely one for the live stage. 'Brick' follows and is fast and furious punk at its best and (somewhat ironically) one of the heaviest tracks here.
In the middle, just as you think you know what to expect, there's a change of tack. 'Darkest Days' sounds moodier, with hints of blues but winds up to an unexpected guitar solo. 'Heavy Feather' drips rock n' roll in sound and attitude with max distortion and Lyxzén swaggering on about a mixed up head. Yeah, I bet. 'First Everlasting' urges the listener to take a good look at themselves and their existence. It's the deep and meaningful song of the album.
As we head towards the end of the album any revelry is quashed by 'This Is Nothing' which boasts a glorious punk rock bass lead-in that catches my attention instantly. Back to business. 'Weight' (hang on is there a theme here?) a song about regret at the failing of a relationship. The earnest chorus sticks in the head, telling of a closeness lost forever. Then the finale 'Lost Cause' uses its pounding drum beat to force you out the door back to your pitiful Groundhog Day of a life as you follow your leader to war… waster.
I knew what I wanted to say when I started this review. In parts its authentic sound reigns me in and lights me up, and other times my attention drifts.  The production is good, maybe too good, the end result is missing a rawness that I like. There doesn't seem to be enough grit here to grab a new listener right away. If you don't know what you're looking at you're going to need time to appreciate it. It might grow on you? It will. The tracks are cleverly put together so that they stick and let me warn you, when they do they grow fast. I've been won over in the process of writing this review.  Sneaky bastards.
Some will say that they expected more of Fake Names, well maybe the problem is that expectation. Listen to it. This is a very good first album from seasoned artists who aren't about to churn out the same old. Nevertheless, even superbands need to settle. A few tweaks and they'll have it, I'll be waiting.
'Fake Names' is out now. You can get your copy HERE.
www.facebook.com/fakenamesofficial
All content © Über Rock.  Not to be reproduced in part or in whole without the express written permission of Über Rock.