By Tim Bolitho-Jones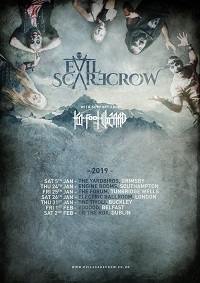 An industrial estate in the Southampton docks isn't normally the place you'd find people milling around on a cold January night. The temperature is low enough to freeze the heritage off the hound but even so, a decent number of people have gathered at the Engine Rooms for a few hours of good time party metal. The atmosphere is relaxed and easy going and by the time the final notes ring out just before eleven, there are beaming faces everywhere. Evil Scarecrow might not be the coolest band in the world but for one chilly winter evening, they brought the songs and the laughs in equal measure.
Before the finest crab dancers Nottingham ever produced take the stage though, it's up to Ten Foot Wizard to warm up the crowd. Clad in Hawaiian shorts, silly glasses and fake moustaches, it's immediately obvious that they won't be taking themselves entirely serious and true to form, things get a bit daft. For forty-five minutes, they play bluesy southern rock with a seemingly limitless supply of big riffs, but they also have a sense of humour most similar bands lack. There's a song (allegedly) called 'Namaste Dickhead,' some charmingly self-deprecating banter and a microphone stand shaped like a heron. There's also a Theremin because OF COURSE THERE'S A FUCKING THEREMIN! The finale involves a heavily bearded man screaming the words "covered in tits" over a deep-fried Clutchian groove and while it's a bit disappointing to discover they hail from Manchester rather than Mississippi, they'll have added themselves to a few Spotify playlists tonight. That lads, was fucking awesome.
Evil Scarecrow meanwhile don't need any introductions. They've robot-danced their way into the hearts of the metal community and you can tell how loved they are by how quickly the bar empties when their intro music starts up. And if things got a bit comedic during Ten Foot Wizard's wall, it ascends to new levels of ludicrousness for the next ninety minutes.
Who else would get an entire crowd to make simultaneous fart noises while impersonating a Wacky Waving Inflatable Arm Flailing Tube Man? What other band could get away with a sexy dance competition? And who else could encourage the crowd to form "a square pit" (like a circle pit but with sharper corners) without damaging their reputation? There are appearances by Link from The Legend Of Zelda, guys in astronaut costumes, anti-gravity machines and even a giant slug monster at the back of the stage. It's all very stupid and low brow, but it's never less than entertaining. The crap costumes are all part of the charm, this is metal by way of Eddie Izzard and Tim Vine and you don't dare run off for a piss break because it's too much fun to look away.
Now, at this point the cynical person would be arguing that Evil Scarecrow are more a comedy act than a proper band, like Bad News for the YouTube generation. However, one reason why people are still coming to see them is because the music itself is really quite good. Strip away the goofy antics and they'd still have a solid collection of top-notch metal songs to showcase. 'Way To Die,' 'Skulls Of Our Enemies' and 'Polterghosts' are all well-written anthems, with a nice line in guitar melodies and catchy choruses. Fan favourite 'Robototron' is a stomping, sing-along joy and an early highlight, while 'End Level Boss' has some serious thrash metal chops.
Inevitably though, it all builds up to the sideways scuttling of 'Crabulon.' Yes, getting a room full of metal fans to impersonate crabs and shout "eggs" is juvenile, but the joke hasn't worn out it's welcome yet and it's impossible to resist the urge to join in. There's a brief interlude before they return for the encore and the high speed 'Hurricanado' ends the night on their heaviest cut.
Admittedly, not everything worked. 'Blacken The Everything' has worn thin and the overlong 'Antartartica' does slow the momentum mid-show, but otherwise Evil Scarecrow remain an absolute joy. They might make elitists turn their noses up so high they're in danger of toppling over backwards, but there wasn't a single person here that didn't wake up humming 'Crabulon' the following day.
The 'Lost In Antartarctica' tour concludes as follows:
Thursday (31 January) – Buckley, The Tivoli (with support from Ten Foot Wizard)
Friday (1 February) – Belfast, Voodoo (with support from Cursed Sun)
Saturday (2 February) – Dublin, On The Rox (with support from Craven)
All content © Über Rock. Not to be reproduced in part or in whole without the express written permission of Über Rock.