By DJ Monk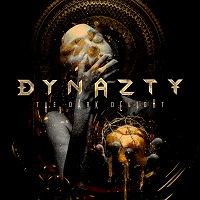 They say that every cloud has a silver lining, and, personally speaking, one advantage of the current lockdown is being given the opportunity to listen a whole shitload of new music that otherwise most likely would have passed me by. After all, ÜRHQ normally receives in excess of 100 album submissions each and every week: most of them are added to a spreadsheet for our esteemed team of ninja reviewers to digest. Now and again, I look at one and say to myself "that looks interesting" – but running a busy website, attending up to four gigs a week and helming a PR company normally has meant that I don't get the time to explore may of these offerings further… but the last few weeks, and the coming months, have undoubtedly changed that scenario, and so I find myself cherry picking our inbox with a wee bit more attention than before…
Which is how I came across this fourth album from Scandinavian supergroup Dynazty. Now, as regular readers will know, I love myself a bit of melodic rock, especially when it comes with a bit of bombast, and when I saw that this particular project features members of Amaranthe (in vocalist Nils Molin) and two members of Rammstein frontman Til Lindemann's solo band (bassist Jonathan Olsson and guitarist Mikael Lavér), I licked my lips with anticipation and immediately hit the "download" button…
…And, I must admit, I was not disappointed, as this album is exactly what you would expect from musicians of this calibre: polished, professional on every level and fill to overflowing with huge harmonies, massive melodies and infectious hooks, all coupled with an innate sense of how to write (and, of course, record) a catchier-than-Covid chorus – topped off with an absolutely stunning performance from Molin, who delivers the goods with aplomb and consistency. I've always been a great believer that melodic rock bands are only as good as their singer: they may be all great musicians and composers, and the songs may kick ass on every other level, but if you don't have someone who can really nail it up front, then it is all in vain. Dynazty do not have any worries in that department, as Molin sticks in there on every level and every department, from the breadth of his range to his passionate, sympathetic interpretations of each and every single one of the 12 songs presented.
'The Dark Delight' is a great album. In many ways, it works because it has moments where you feel that its creators could have done so much more but add effect by stepping back from doing so. But, then, they add touches that just have you going "wow", such as the neat little Celtic touches added on 'The Man And The Elements', which draw out just that extra little nuance. Such subtleties are a characteristic of the album as a whole, but just one I've selected as it re-emerged just as I was typing this sentence.
'The Dark Delight' is out now. You can get your copy HERE.
All content © Über Rock. Not to be reproduced in part or in whole without the express written permission of Über Rock.