By Jase Walker
Following on from a packed crowd at Slam Dunk and an appropriately titled new album, 'Amazing Things', Don Broco hit one of Manchester's most prestigious venues, Academy 1, for the first night of two sold out shows here, as well as a nearly fully sold-out tour. A rainy evening doesn't appear to have dampened the excitement I can feel in the queue as I type this but admittedly, I'm absolutely wet through following the walk up and it'll no doubt be a pretty toasty evening in the venue.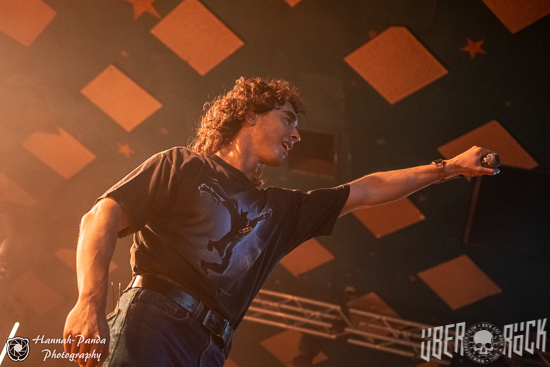 And we're in, and bevvied, just as Kid Brunswick opens with a gigantic flashing X in the background and… Well, put it this way, I wasn't expecting a solo rap act? This isn't what I really thought would be supporting a band like Don Broco, but I suppose with their reputation for being oddballs then it isn't totally surprising. My friend who's with me puts it in a better way of summing it up with "Yungblud mixed with Machine Gun Kelly", which seems like a pretty fair assessment. Honestly though, I find it hard to give Kid Brunswick a fair shake, as this really isn't what I'm into at all by any stretch. The crowd seems reasonably engaged but I'm not really sold on this, I can't get into it.
Manchester Academy is steadily getting more bustling as the time for Don Broco nears, but before that we have Noisy. Another act I've not heard of, but then again, I'm a bit disconnected from popular culture, but nonetheless let's see what they've got! So, this seems to be another rap-ish type act, but with a full backing band, but has a bit more of a rock like flair to it which carries the vibe a lot better, I think. I don't mind rap elements in music because it can be used to great effect, and Noisy are mixing catchy hooks and poppy choruses along with the rap style vocals. I dig it!
They're doing really well working the crowd and quite a fair chunk are bouncing along to the music and dancing about which is always good to see. I know nothing of these guys and although they're way outside of what I would normally listen to, it's not bad and I'm enjoying the show. The music is solidly varied, erring back and forth between more rap focused songs and pop rock, not my cuppa but I really can't fault this performance, it's good fun!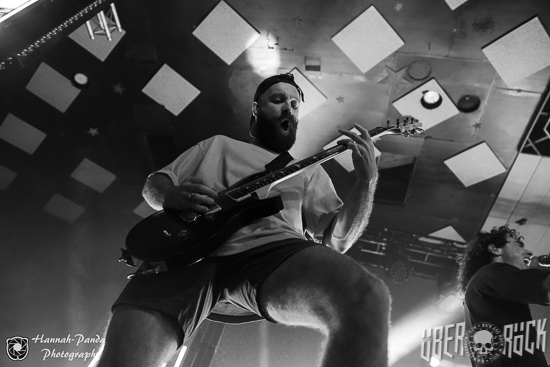 By the time Don Broco are due on stage, the Academy is absolutely bloody packed shoulder to shoulder, the energy building up to fever pitch. I've found myself a close position to the right of the stage for a decent view but away from possible pint missiles, a constant danger if their slam dunk show was anything to go by.
Slightly later than expected, the stage dims and the crowd erupts in a rapturous applause and chorus of screams, it's time! Going straight for the jugular opening with 'Manchester Super Red No. 1' fan, the crowd explodes, easily one of my favourite tracks off the new album!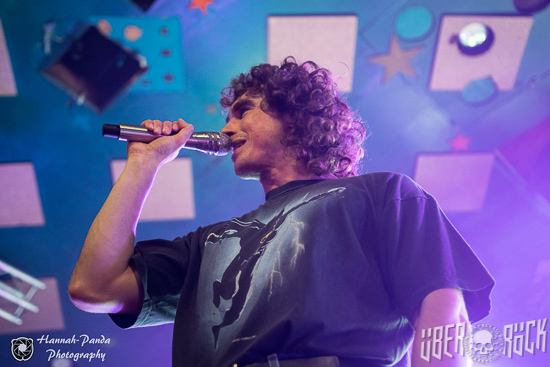 We're barely three songs in and the whole show is a massive cacophony of a screaming crowd, pint missiles flying left, right, and center, crowd surfers, lasers, Don Broco smashing out banger after banger and a massive pit right at the center of it – legitimate insanity. Another Amazing Things banger in the form of 'Gumshield' and the crowd legitimately cannot get enough of this, the raw energy of everyone in this room is infectious. Front to back, side to side, there's not a soul in this room that isn't going for it, this is what live music is all about right here.
As they sweep through their wide-ranging back catalogue, they hit another one of my favourites from the new album, 'Uber'. It's hard to overstate just how much Don Broco embody "dumb fun with banging riffs". I mean every part of this live show has been incredible fun with every person here hanging off every word and screaming it back to them the whole way. The moment they started 'Come Out To LA' the crowd suddenly all got their phones out to get a quick video of them playing: evidently a popular one then.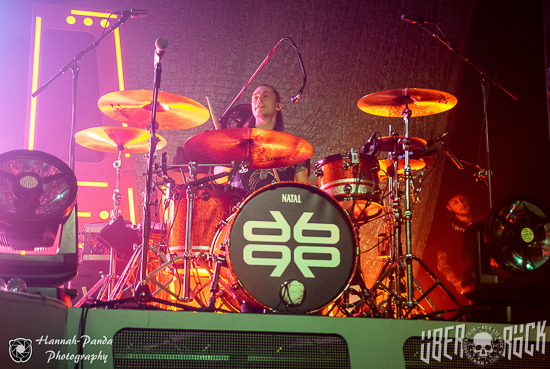 One part that stands out is they played a song called 'Action' and brought up Kid Brunswick and the singer from Noisy to sing it along with them; always good seeing stuff like this which is often out of the ordinary. As we approach the end of the set, they dim the lights and ask the audience to get their phone lights out as they play the more ballad-esque song, 'Nerve'; seeing the academy lit up in this way was magical.
This whole set has been a fantastic selection of stuff, obviously with a focus on the new album, 'One True Prince' went down a storm with its "love letter to Deftones" and one of the more bizarre ones towards the end with 'Bruce Willis' which had a large picture of his face on the back screens for most of the song. The encore predictably being 'Everybody' followed by 'T-Shirt song', T-shirts flying all over the bloody place. What a fantastic closer to an incredible set that is just everything a live music set should be.
PHOTO CREDIT: All photos © Hannah Reid/Über Rock. Photos taken at Glasgow, Barrowlands, on 27 October 2021. You can view our full gallery of photographs HERE.
All content © Über Rock. Not to be reproduced in part or in whole without the express written permission of Über Rock.