By Jase Walker
There is no better way to make a guy in his mid-30s more nostalgic than getting him to relive his college days watching a band like Bullet For My Valentine. Not only that ,but with two of my current favourites in support, TesseracT and Bleed From Within, but also at one of Manchester's best gig venues, Victoria Warehouse…
The queue is suitably massive to match the venue and I'm stood here rocking my TesseracT T-shirt because I'm a dirty fanboy, awaiting being shuffled into the venue with a pretty eclectic line-up by all accounts.
Ever since Bleed From Within dropped their absolutely outstanding album earlier this year, I've been hoping to see this stuff played live while it's still new and at the 7:30pm mark, they take to the stage. Here. We. Go. Whoever's doing the lighting for this is absolutely killing it too, shades of crimson red interspersed with flashing whites to the band absolutely smashing it.
In the middle of the pit that's just opened up, I can see a well-known character in the gig scene, The Pit Troll! With the circle pits kicking off, his imposing physique dominates, head and shoulders above the rest of the poor sods that are in it with him. These Scottish lads are absolutely taking the place apart like they were meant to be on a stage this big, the command they've got over the crowd is incredible; circle pits, walls of death, you name it.
Finishing with 'The End Of All We Know', a full crowd chorus singing back the lyrics, the singer climbs into the crowd and finishes the song screaming it off the top of someone's shoulders. Absolutely superb show though – and of course a mention that they're playing Manchester's Rebellion venue on the 25November… think I'll be there for that too!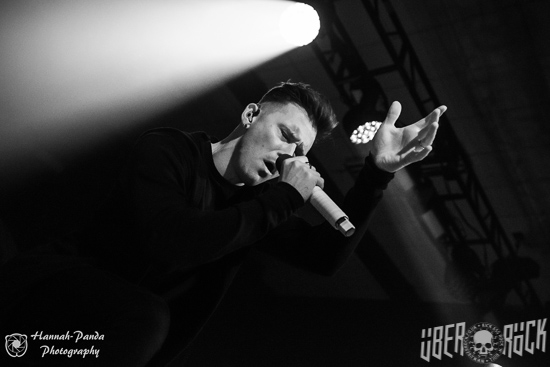 The stage darkens, it's TesseracT time and I am so, so ready for this. It's been so long since I've seen these guys and I really can't overstate just how much I bloody love them. Opening with a new(?) song and Dan smashing out some gutturals that gave me shivers, new stuff on the way? I hope so. Wasting zero time following it up with 'Concealing Fate Part 2 and 3', it's time to get lost in the music. Every single rhythmic chug hits you like a punch, such an incredibly tight act that just oozes style in every single manner, what a unique sound. If I had any doubts that TesseracT could fit on this line-up and not stand out, they've definitely been put to rest as they smash out some of the best songs in their back catalogue.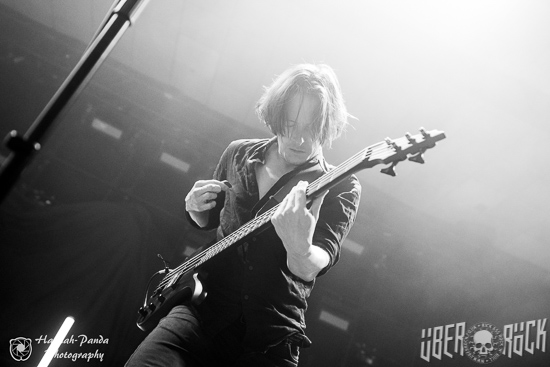 As much as I'm enjoying this show as a big fan of TesseracT, the crowd ultimately seems a bit indifferent which is a real shame. There are clearly other TesseracT fans in the audience but overall the response seems a bit lacklustre but that doesn't take away much from the fact that the show itself was pretty bloody immense.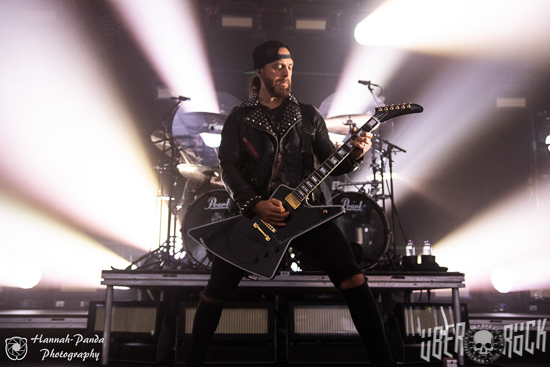 With the clock hitting half nine, it's time for our headliner, Bullet For My Valentine. The crowds clearly hyped beyond belief for this, and the stage show already looks wild with two giant screens behind flashing various images. It's been a long time since I've seen these guys live and I can't wait to see what they bring. Opening with 'Parasite', the lights flash frantically and the crowd is already going wild…
Only part way through this show it occurs to me how easy it is for a lot of people either the same age as me or slightly older to write this band off as a flash in the pan during the emo movement in the early 2000s, but they are so much more than this. Even with old bangers like 'Your Betrayal' there's a good reason they've been able to keep building on an already impressive legacy. They're not skimping on the older songs here, it's making teenage me a very happy boy, 'Four Words' getting me all worked up and nostalgic; I still know every word, and clearly so does the audience. Even with the newer stuff that I'm not super familiar with, the crowd is eating it up, screaming the words and there's no time for even brief pauses in this set; it's just go, go, go…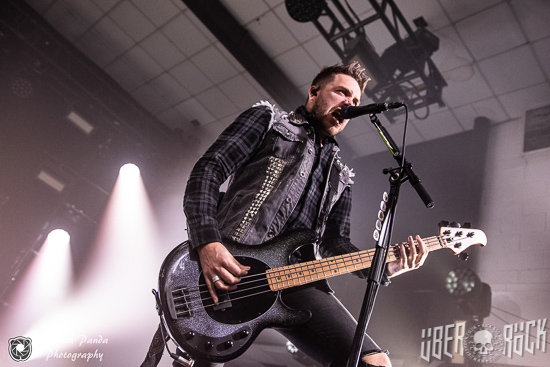 As we approach the end of the set, you know it's classic banger time, signalled by 'Scream Aim Fire' and I'm pretty sure I've got a solid idea of what's about to follow up because it's a Bullet show right? Can't leave out their biggest singalongs surely? Finishing up the last of the main set with 'You Want A Battle? Here's A War' and 'The Last Fight', BFMV inspire frenzied movement. The whole front of the crowd is a sea of waving arms with some brave people taking last minute videos on their phones while beer cups fly around constantly. Admittedly I was genuinely thinking this set would be nearing its end but it absolutely isn't, Bullet are giving it their all with a set that goes way past what you'd ordinarily consider a headline set. The encore begins with 'Shatter' but the follow up is what I'm here for, 'Tears Don't Fall' taking me right back to my college days; I love it. Finishing up with 'Waking The Demon' and bringing to a close a fantastic show, it's good to be back in Victoria Warehouse and hopefully it won't be long before I'm back here.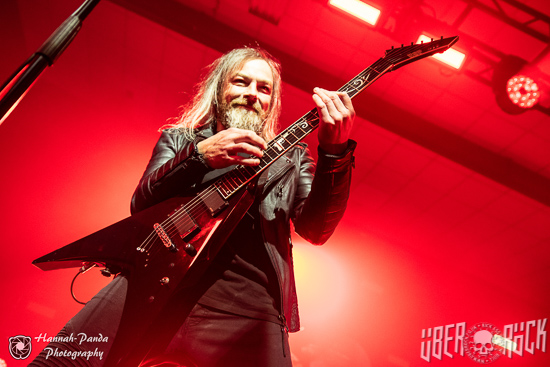 PHOTO CREDIT: All photos © Hannah Reid/Über Rock. Photos taken at Edinburgh, Corn Exchange, on 1 November 2021. You can view our full gallery of photographs HERE.
All content © Über Rock. Not to be reproduced in part or in whole without the express written permission of Über Rock.