By Monk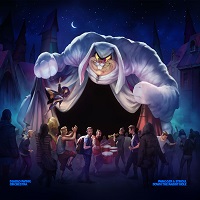 It's Halloween. Well, almost. The clock is ticking inexorably down towards our favourite day of the year, so what better time to don our finest tux and stroll, nay swagger, down the nearest rabbit hole to swing the night away to some completely diabolic sounds which meld folk, jazz and heavy freakin' metal into one glorious amalgam?
This fifth album from avant-garde expressionists DSO is one which, once again, sees the Swedish ensemble defiantly defying generic classification as they indulge in the sort of sonic experimentalizing that would make Frank Zappa wonder why he didn't push the envelope even further…
Lead single 'War Painted Valentine' combines crazy jazz brassiness with dancehall rhythms and thrashy guitar riffs, crossing the sort of line that might be drawn if Was (Not Was) sat in on a jam session with Electric Six and The Prodigy. 'Celebremos Lo Inevitable' starts off as a Cuban-inflected torch song, which wouldn't sound out of place on a Robert Rodriguez soundtrack, before Tarantino sends Johnny Depp into the middle of the mariachi party with his Marshall stack cranked up to 12 and decimates the dance floor with an Anthrax-style barrage of staccato riffs.
You want more craziness? How about a bit of 'Seven Seas'-style Freddy mixed in with Gogol Bordello jamming with Less Than Jake, The Pogues and The Dubliners in one fuck-off drunken early morning session somewhere in Temple Bar? Well, you got it as we dance the 'Jig Of The Century'… How about some Kylie-infused DM-inflected industrial pop? OK, 'Out Come The Hummingbirds' to deal with that request. James Brown duetting with David Coverdale while Earth Wind And Fire deliver the funk? Yep, that's our 'Snake Oil Baptism' – and dip me in that holy water! Cellos and clarinets sitting alongside screaming Flying Vs and Muse style proginess? Yep, you've guessed it: there's a lot of bat-shit crazy stuff going on in these here grooves.
A rabbit hole is a metaphor for an entry into the unknown, the disorienting or the mentally deranging. Venturing too far down is probably not that great an idea. The Diablo Swing Orchestra most definitely take us on a disorienting journey into the unknown. But you know something? It's a fucking great idea, and I'm glad I bought a ticket for this particularly crazy, deranged ride… It's probably the most anarchically awesome aural experience I've had this year!
'Swagger And Stroll Down The Rabbit Hole' is released on Tuesday (2 November). You can get your copy HERE.
www.facebook.com/diabloswingorchestra
All content © Über Rock. Not to be reproduced in part or in whole without the express written permission of Über Rock.