By DJ Monk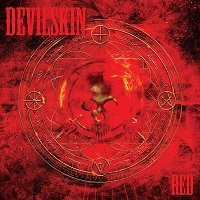 Red. The colour of passion. Vitality. Blood. Danger. Romance. Anger. Horror. Love. It is also the title of this, the just released new album from New Zealand metallic groovers Devilskin. It is a title that was carefully chosen by the band, with bassist Paul Martin telling us that the quartet "wanted to reflect the diversity, strength and depth of the songs on the album with an undeniable declaration". Well, they certainly succeeded as, on first impression, 'Red' is as rich and vibrant as its name suggests…
The weirdly titled opening track, 'Do You See Birds' (perhaps they are referring to the vultures which will be picking at your bones when you've finished listening to this album), certainly sets the tone in terms of diversity of sound, with the initial groove/death metal vibe quickly giving way to a punky vibrancy which underpins the rambunctious main riff, while Jennie Skulander switches through her vocal gears, from out and out death growls through to vibrant vibrato, with an eloquent ease. Follow up 'All Fall Down' and lead single 'Corrode' see them ploughing more traditional melodic metal territory, very much à la Halestorm and their ilk (although DQ reckons the latter inhabits a more Pretty Reckless mien), really showcasing the depth and strength of Skulander's wonderful voice, while Nail's guitar pumps and grinds out the riffs with acidic aplomb. Meanwhile, the rhythm section of father and son Paul and Nic Martin pump out the concrete solid underpinning that this highly impressive collection of songs needs in order to deliver their highly impressive impacts.
Things take a slightly symphonic metal turn with the epic 'Eyes Red Heavy' (the only track to exceed the five-minute mark) before a massive bass hook heralds a return to the earlier heaviness with the pacy, nu-metal funk of 'Same Life', which features a riff that cuts through like a steak knife through butter, at the same time coupled with a Billy Idol-esque commercial punk groove to its chorus and breakdown sections. These guys certainly know how to mess with the formulae, and to do so with tremendous effect. The result is an album that twists and turns in and around itself, mixing myriad styles but doing so in a charismatically cohesive volume that speaks volumes for both the talent and the experience of its creators.
While the three backing musicians are more than competent exponents of their individual and collective arts – and, let's face it, any album stands or falls by the talents of those responsible – and the songs are all wonderfully constructed, blending the right elements of light and shade (see the wonderful 'Blood Bone', the manically eclectic 'Sweet Release' or the Blues Pills-ish retro vibe of 'Be Like The River'), pacing and synchronicity, the standout performance undoubtedly is that of Jennie Skulander. She has a truly amazing voice with, as mentioned above, a great three-octave range that she fully exploits, and to maximum impact.
'Red' is a great album, highly accomplished in every department. It never allows your attention to wander, and makes you want to come back for more. And that is a true marker of the success of a good album. Nay, a great one.
'Red' is out now. You can get your copy HERE.
All content © Über Rock. Not to be reproduced in part or in whole without the express written permission of Über Rock.