By DJ Monk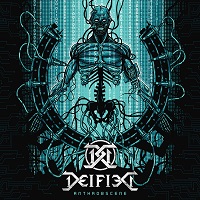 Deified first came to the attention of the wider Überverse when they stormed to victory in the Merseyside leg of 2015's 'Metal 2 The Masses' competition for a slot at the annual Bloodstock festival. The win coincided, more or less, with the release of their highly impressive debut album, 'Ascension'. They followed this, two years later, with the defiant and impactful EP, 'Inhuman Manifesto', which threatened to help them build an unstoppable momentum and propel them into the upper echelons of the ÜK metal scene. However, that momentum slowed somewhat and it has taken them three years to once again declare their intention to dominate and subjugate their rivals with this latest collection.
At first glance, its official description as an EP appears somewhat deceptive, as it contains eight tracks, which could be perceived as rather long for that particular format. But, it quickly becomes obvious that there are only five songs "proper", with the rest being instrumentals/sample packages, in the form of 'Prelude', a midpoint 'Intermission' and an outro (although, at three minutes long, the latter could be counted as a fully-fledged entity in its own right), which help to give the opus not only valuable additional length (the finished result clocks in at an impressive and highly listenable 28 and a bit minutes) but also a sense of thoughtful cohesion and interlocution between the tracks.
Long-term fans of Deified will be pleased to learn that 'Anthrobscene' picks up almost exactly where its predecessor finished off, at least in the lyrical department, with the title being an overt hint at to its theme in that department – the obscenity of modern humanity and the world which it has moulded for itself, with social media, the banking system, scientific "advances" and, of course, politicians all the subject of the band's ongoing wrath.
Visceral vocals snarl and snap over dense, hypnotic riffs which themselves are etched in acid, while the pummelling rhythms drive the collective lyrical and musical points home with a force that at times is so subtle that you don't realize they are pushing you deeper and deeper into the dense grooves which are enveloping you in their inexorable embrace. At the same time, there is a raw power which is not diluted by over-development or over-production: yes, the level of technicality is extremely high, but the musicians have that all-too-rare (at least in the metal mien) quality of knowing that it is as often what you leave out that is as effective, if not more so, than what you include.
'Anthrobscene' is a truly visceral declaration. A hugely impressive offering on every level, from the thoughtfulness of the lyrical challenges presented to the overall framework and structuring of both the individual songs and the package as a whole. The only downside that I can possibly see is that its release will soon be overshadowed by that of the new Lamb Of God, with whom Deified share many musical and attitudinal reference points: but, 'Anthrobscene' most definitely, and defiantly, is strong enough to stand on its own two feet in the face of such competition and demand to be heard and recognized in its own right.
'Anthrobscene' is out now. You can get your copy, and other Deified goodies, HERE.
All content © Über Rock. Not to be reproduced in part or in whole without the express written permission of Über Rock.