By Monk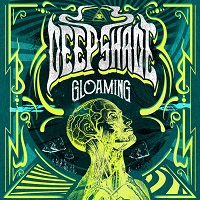 There I was, sitting slowly getting into the dense, grungy vibes of Wigan prog stoners Deepshade inviting me to eat their dust as they drove their bright shiny Camaro off into the sunset when… WHAM! Just as I get into cruise control and ease into the groove, coming the wrong way up the off-ramp, a ten-tonne truck hits my Mustang full on sideways… because all of a sudden, there's a wee jazzy saxophone solo that suddenly wakes you from your reverie like a slap in the gob from Basil Fawlty…
The sudden change in mood two thirds of the way through opening track epitomizes what to expect from this five track EP – and that is everything, and nothing. That is because Deepshade chuck everything at this latest release, but nothing is what you might expect, partially because, just as you ease back onto your comfortable easy chair to let this aural experience wash over you something causes you to leap up and scream "Bridget, we're being burgled…".
And, of course, you're going to send the missus to find out what's happening, because you yourself are too immersed in this sonically rich experience, which veers from the aural entrancement of early-to-classic Pink Floyd through the cool shebeen vibes of Coltrane and Mingus to the modern prog meanderings of the likes of Steve Wilson.
Then, things take another turn, with the vibrant staccato-led guitar of 'Life Is Beauty' taking us into territory more inhabited like wild flowers such as Muse or Biffy Clyro, with a rousing Foo Fighters style feel to the pre-chorus bridge, before the whole songs descends into a crazy Metallica-meets-Prong-meets-Tull jam.
'Gloaming' contains a rich variety of styles, from grunge to out-and-out prog, from desert stoner to valley groove. But it does so in a way which is cogent and coherent. It would be so easy for it sound like a mess. To be honest, it should be mess, but then Eton is a long way from Wigan (😊). But Deepshade pull it off, and do so with aplomb and panache, so well done for that alone.
'Gloaming' is out now. You can get your copy HERE.
All content © Über Rock. Not to be reproduced in part or in whole without the express written permission of Über Rock.