By DJ Monk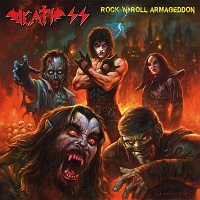 To be brutally honest, Italian self-styled shock rockers Death SS seem to a band with a chip on their shoulder big enough to feed the entire Überverse for a millennium – and then some! Their biggest gripe seems to be that, despite having been kicking around for nigh on four decades now, they have "never got full recognition" – so much so that band founder (and sole remaining original member) Steve Sylvester was "forced" to release this, their most recent album, via his own label – that is, until the normally quite discerning High Roller Records decided to pick it up and inflict it on a wider audience.
As you might have gathered from that last sentence, I am not a fan of 'Rock 'n' Roll Armageddon'. To say that it is bad album is to do a severe injustice to that adjective. It is woeful. And that's an understatement. Sylvester may have started out wanting to be the next Arthur Brown or Alice Cooper – fuck, he even claims to have influenced King Diamond – but he obviously never received Simon Cowell's memo about having failed the audition, on every level.
It is hard to find any positive, redeeming factors. The songs are incoherent, disjointed faux mini-rock operas best suited to the soundtrack of one of those B-listed Italian horror flicks which even Dario Argento would have chucked his ring at the very thought of being approached to consider directing. Let's take the title track as an example: it is the type of pure schlock in which the likes of Lordi specialize. But, there is a massive difference: Lordi approach such things with a massive sense of OTT fun. Sylvester sounds like he's deadly serious, like he's trying to produce the next massive gothic horror hit with the commitment of Jim Steinman crafting the fourth instalment of 'Bat…'. By the time the 'Hellish Knights' ride out of the speaker, I'm 'phoning Helsinki and asking for forgiveness for every negative comment I may have made, even in jest.
DQ and I have a pet wolf. One of those featured in 'Game Of Thrones'. Believe me when I say that his shit smells better than this album sounds. Avoid like the plague.
'Rock 'n' Roll Armageddon' is out now.
www.facebook.com/DeathSSofficial
All content © Über Rock. Not to be reproduced in part or in whole without the express written permission of Über Rock.