By Rich Hobson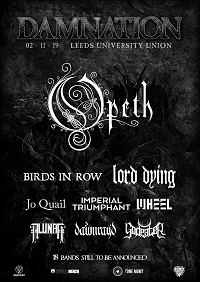 A beloved fixture of the UK extreme music calendar, Damnation Festival has seen its fair share of underground heroes over the years, but 2019 marks the booking of its biggest headliner ever in the form of Swedish prog geniuses Opeth.
Now in its 15th year, the festival has booked a band who are not only beloved in the underground metal community for the records 'Blackwater Park', 'Still Life', 'Damnation', 'Deliverence' and 'Ghost Reveries', but have also headlined festivals in their own right and even played acclaimed sets at legendary venues like The Roundhouse and Wembley Arena.
Opeth are joined by a further eight bands in this first announcement, the festival showcasing its trademark sense of extreme eclecticism by booking the likes of post-hardcore noise punks Birds In Row, sludge warriors Lord Dying, more prog-tastic fun in Wheel, cellist Jo Quail and post-black metallers Imperial Triumphant in a UK debut. The festival will also host homegrown talent in the form of Dawn Ray'd, Godeater and Birmingham doom metal troupe Alunah, in their first appearance with new vocalist Siân Greenaway.
By all accounts, this represents the strength and quality of booking that fans have come to expect from the Leeds-based festival, with many more names due to be added in due course.
Damnation 2019 will take place on 2 November and as ever will be held at Leeds University Union.
Tickets are on sale now, so don't wait around too long before booking yours!