By DJ Monk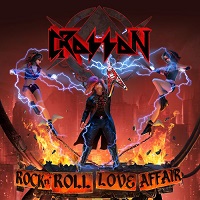 It could be argued that your relationship with rock 'n' roll is most definitely a love affair. Unlike most affairs, it does tend to live a lifetime, becoming more of a way of life, or a code by which to live same. In common with most affairs, it has its up and downs, its rough moments and its smooth, its moments when we both love and hate each other in equal measure. But, like all good love affairs, if you both work at it, then it is an immensely rewarding experience. This second, aptly named, album from Aussie sleazebags Crosson is a case in point…
It is most definitely the product of a man in love with his rock 'n' roll. Yes, this is another of those one-man projects, very obviously fronted by the Michael Starr/Satchel lookalike/wannabe (depending on your perspective) who just goes by his surname – although there are also credits for Death Dealer guitarist Stu 'The Hammer' Marshall and Dario Bortolin of Baby Animals. The result, however, is a very strange concoction indeed…
It wants to be a classic glam/sleaze album, citing as it does influences such as Kiss, Motley Crud and, indeed, even Steel Panther. And, in some way it succeeds in that ambition, especially on the likes of the cheeky 'Weak At The Knees (For A Hot Brunette)' – makes a change from blondes, I suppose – and the Ratt-esque title track.
But, the problem is that Crosson's voice doesn't quite fit the mien: he's just too straight down the line… you really need some Bret Michaels style yelps, or even the spit and polish of a Paul Stanley or, heaven forefend, the aforementioned Michael Starr. In fact, Crosson's style is more suited to a gothic noir style, something no better exhibited than on 'Possessed', which evokes the likes of The Mission when they were more interested on appearing on TOTP than maintaining their underground creds.
By switching from radio-friendly classic rock sensibilities to tougher Eurometal stylings, while also deviating into the aforesaid gothic, and even new romantic territory, 'Rock 'n' Roll Love Affair' demonstrates an inconsistency and lack of clarity which, unfortunately, muddies the few moments on which it actually works, such as the Bon Jovi vibe of 'Merry Go Round'. Which is a real shame, because this could have been a really decent album, but it just stumbles at too many hurdles to make it onto the medal table.
'Rock 'n' Roll Love Affair' is out now. You can get your copy HERE.
All content © Über Rock. Not to be reproduced in part or in whole without the express written permission of Über Rock.