By DJ Astrocreep
Another journey across to Manchester sees me taking in rising rock heroes Crobot from Pennsylvania, USA. The rockers are on tour to promote their upcoming 'Motherbrain' album, with a night in Glasgow the preceding night, so I make the same old trip across to Rebellion in Manchester for the night's antics, despite a train cancellation and a later train being delayed meaning I miss the openers Electric Rebels. I arrive in time for a quick chat with the band before taking my place in the crowd for the next support, Blind Haze.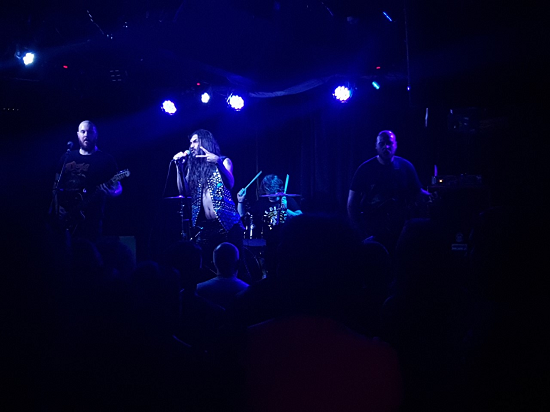 It has to be said, I knew nothing of Blind Haze prior to the gig, though the Leeds based rockers certainly seem to have won over the crowd quite quickly. While not the largest crowds of crowds at first, the fact that they have people moving quite quickly shows quite how well they play on the night. Their good old-fashioned rock 'n' roll and their hard rock riffs make for easy aural consumption, with even my own cynical head and feet nodding and tapping away quite quickly once I get to properly take them in. They get a half-hour set to impress, which they use well and clearly gain themselves more fans. A good set from a tight and able act.
Our main support for the evening are Wolf Jaw, with the Midlands-based act continuing along the same path that Blind Haze have forged before them. While their vocalist makes mention of their roots a couple of times,  a brief musical cover of Black Sabbath's 'Symptom Of The Universe' certainly catches my ear, though, as they work well through their set and certainly give our headliners something to think about before they come on stage. The crowd take well to them and with good reason, as they play a very capable and enjoyable set, showing that they are certainly worthy of their place on the bill and tour.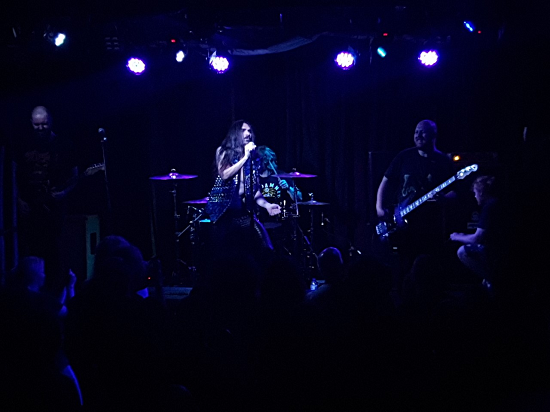 We finally get Crobot on to the stage for their set and the crowd are already in good spirits following the rather good support acts. Whilst it's not the busiest I've seen the venue, it's actually a fairly welcome relief that it isn't more so, given the heat that can build up in the room and the current heatwave that the UK is undergoing. The room certainly doesn't feel or look empty, but I doubt that would deter the rather irrepressible Crobot even if it was. Whether it's guitarist Chris standing atop his amp to play before jumping back down or throwing his guitar around him while playing, or Brandon ignoring the heat to do his own impression of a Duracell bunny around his part of the stage, the band are definitely in their element here.
With more than able musical support from their touring members on drums and bass, they speed through their set, making it feel much more like it's 20 minutes than the hour we get from the guys, we get songs such as 'The Legend Of The Spaceborn Killer', 'Plague Of The Mammoths', 'Alpha Dog' and 'Nowhere To Hide', they keep the party atmosphere going with snippets of 'The Wizard' by Black Sabbath, with Brandon performing mouth organ, the 'Ghostbusters' theme and Toto's 'Africa'. Their set goes down a storm, with everyone there, staff included, clearly enthralled by their collective ability and songs. A great set by a tight and fun band.
Crobot play The Underworld in Camden tonight (Friday 26 July), the Steelhouse Festival tomorrow (Saturday 27) and The Craufurd Arms in Milton Keynes on Sunday (28 July).
'Motherbrain' is released on 23 August. You can get your copy HERE.
PHOTO CREDIT: Photos by the author.
All content © Über Rock. Not to be reproduced in part or in whole without the express written permission of Über Rock.