By Tim Bolitho-Jones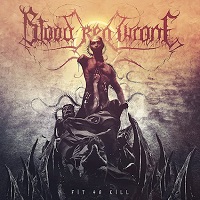 Anyone that's actively attended gigs in the past few years will have probably seen Blood Red Throne without even realising it. The Norwegians might not be a household name but they've been active for over two decades now, regularly filling up support slots and playing just about every festival out there. Trying to remember who that death metal band was that played Graspop in 2013 at three in the afternoon? Chances are it was them.
Consequently, it's easy to approach 'Fit To Kill' with a degree of cynicism. After all, how good can this band possibly be if they've been performing together this long without attracting any significant attention? Well, put those doubts to rest because their ninth full-length is an absolute beast. It's nothing over-complicated and has little to offer besides raw pummelling, but sometimes you just need a knuckle-headed death metal album and this one absolutely fits the bill. There are no off-kilter technical riffs, black metal atmospherics or melodic accessibility to be had, it's just a straight up bulldozer and woe betide anybody that stands in its way.
Opening track 'Requiem Mass' tells you everything you need to know. Insanely fast blast beats, deep-throated vocals and the occasional southern groove meld together to create one bloody-minded statement of intent. It's not big, it's not clever, but damn it doesn't half make you want to pick up your favourite mammoth-bone club and murder every other caveman living nearby.
It's also worth noting how energetic they are, even this long into their career. Songs like 'Structured Insanity' and 'Bloodity' are alive with unrestrained vigour, while even the mid-paced 'Movement Of The Parasites' thrives with enthusiasm. The latter carries a neat stoner-groove that'd make Chris Barnes envious, while 'Deal It Or Die' packs as much force as an asteroid hitting a nuclear plant.
Okay, so it's a bit one-dimensional and a couple of the songs do outstay their welcome, but otherwise Blood Red Throne nail it here. We're not overly familiar with their older material, but 'Fit To Kill' fucking slays. If their previous releases were of a similar quality to this one, their lack of name recognition is most likely down to a stubborn adherence to their chosen genre. Getting a song like 'Killing Machine Part 2' much radio airtime isn't going to be an easy task.
It all climaxes in the appropriately titled 'End,' which consists of five and a half minutes of pulverising mosh-metal. This one is rabid, corpse-ripping brutality from start to finish and that same description could apply to the album as a whole. Blood Red Throne only have one trick in their arsenal but hey, it's a damn good trick.
'Fit To Kill' is released on 13 September. You can get your copy HERE.
www.facebook.com/BloodRedThroneOfficial/
All content © Über Rock. Not to be reproduced in part or in whole without the express written permission of Über Rock.