By DJ Monk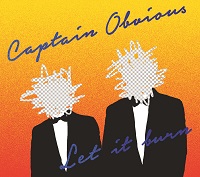 I must admit that when I saw the name Captain Obvious pop up on my emails, I seriously thought some PR guru in a padded cell somewhere had to be taking the proverbial brand of underwear, as images of a certain very annoying character from a series of television advertisements immediately came to mind. Fortunately for me, and the wider Überverse, said bearded gentleman has not been given a recording deal; rather, this particular incarnation of Captain Obvious are two young brothers (they're 19 and 21) called Angus and Joseph who hail from Paris and drop this, their debut five-track EP, this weekend.
'Let It Burn' is a quirky little offering, covering basses as diverse as traditional psychedelic blues, such as on the White Stripe-infused opening title track, through heavy ass stoner grooves to dense, furious garage Euro-punk, such as the anarchic 'Pop Songs'.
Rammed to the rafters with thick, fuzzed-out guitar riffs, and underpinned with precise drum lines, each of the five tracks on 'Let It Burn' is well-crafted and appealing, both in their own rights and as part of the collective whole. There's an undeniably commercial, radio-friendly edge to all of the songs, which could make any one of them a hit single; but there also is enough mud underneath their fingernails to keep even the most devout fan of sludge and doom (such as our resident DJ) nodding along and paying attention from beginning to end.
A worthy debut which I'm glad I took the chance on exploring rather than just write the initial missive off as a poor joke.
'Let It Burn' is released tomorrow (Friday 1 March).
https://www.facebook.com/captainobviousfr/
All content © Über Rock. Not to be reproduced in part or in whole without the express written permission of Über Rock.