By DJ Monk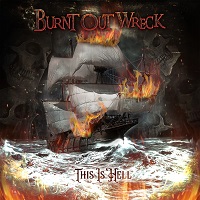 "ROCK AIN'T DEAD" a band called Heavy Pettin' proclaimed away back in 1985: it is a phrase which perhaps did not have as much meaning as resonance as it does 30-plus years later, especially with certain prominent figures within the music business asserting exactly the opposite…
Hold on a second. Hit the rewind button. Did I just mention Heavy Pettin'? The Scottish big hair hard rock back who briefly threatened to be the "next big thing". Yes, I did indeed… Following the 1983 release of their stunning and immediately effective 'Lettin' Loose' debut album, they almost had the world at their feet. Picked up by then Def Leppard manager Peter Mensch, they toured with Ozzy, Kiss, Ratt and Whitesnake and released a second album, the aforementioned 'Rock Ain't Dead' in 1985. Then, just when things were going so well, it all went horribly too wrong, as it tends to do in the stories of myriad rock 'n' roll casualties… Many blame the origin of the band's downfall being record company Polydor's insistence that they enter the Eurovision Song Contest, with the song 'Romeo': not only was the move an unmitigated disaster (it would be another 20-odd years before Eurovision was ready to accept rock bands) but many fans turned their backs on the band, virtually disowning them overnight… it was the beginning of the end and the band broke up in 1988, disappearing into the annals of history, with their third album, 'The Big Bang' released posthumously (as it were)…
Wind the clock forward 28 years to late 2016, and out of the blue, Über Rock HQ receives a missive. It is from the wife of HP drummer Gary Moat, telling us that, at least as far as he is concerned, rock most definitely ain't dead and that he is back, with a new fire in his belly and a desire to make music again. Except this ain't the subsequent Pettin' reunion, and Moat is no longer behind the kit: no sir, he's fronting his own band, the somewhat ironically monikered Burnt Out Wreck… and he's out to prove he's anything but that. Now, we'll pause here briefly, as, of course, Moat is no stranger to the frontman role, as he did just that for a few years with another band, Mother's Ruin, originally formed out of the ashes of HP back in 1991 and whose flame burned brightly for a short period in the first half of the Noughties before in turn being extinguished. But it was that experience which sowed the seed for what we have before us today… a second, brand spanking new album to get us banging our heads and suspending our sense in day-to-day reality to while we crank up the volume and annoy the fuck out of the neighbours by making their pictures fall off the walls with the vibrations.
Once again, just like its predecessor, the standout feature of the album is that it is crafted by a guy who has rock 'n' roll running through his veins and doing what he loves doing – and that's playing that very same rock 'n' roll music. He's obviously having fun being back at it again, and that fun reflects in this, producing a no-nonsense straight-to-the-point rock 'n' roll album which is actually a joy to listen to without being taxing. Yes, it's clichéd in places… but, what the fuck, I'll happily lick up the odd rock 'n' roll cliché here and there if they're delivered with the punchlines that this album produces. Burnt Out Wreck once again have proved that they are perhaps the most inappropriately named band in this 'ere hoary old rock 'n' roll Überverse by producing another darn fine slice of party down rawk 'n' roll that is guaran-damn-teed to get you air guitaring around your living room like a 13-year old schoolboy…
'This Is Hell'is out now.
www.facebook.com/BurntOutWreck
All content © Über Rock. Not to be reproduced in part or in whole without the express written permission of Über Rock.