By Jonny Bakes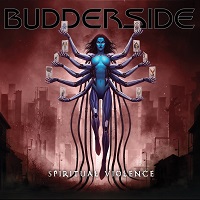 Some of you may be surprised to hear that the late great Lemmy had set up his own record label, Motörhead Music, in order to help up and coming bands break through into the big leagues. One such band on the label was handpicked by the man himself, which must mean there's something particularly special there. That band is Budderside, who released their debut album on Motörhead Music in 2016 but are back at it again with their sophomore release. Not being one to question the judgement of one of the undeniable Gods of the metal scene, I was left with no option but to dive in and embrace the 'Spiritual Violence'.
On the first listen, I was immediately hit with a tidal wave of nostalgia as I made my way through track after track of balls out rock. Although the more I listened to it, the more I picked up subtle modern influences that are hidden away in some of the tracks. For example, there's a bit of a QOTSA vibe to 'Amber Alert' which caught my attention the second time round. But overall this is something that can loosely be described as "biker rock" which comes as no surprise considering some of the background of the band; frontman Patrick was formerly employed as roadie for Motörhead, so he must have fully embraced that lifestyle and brought that with him into Budderside.
The album opens with leading single 'Zen' which has some serious groove to it, making it a pretty fitting way to get stuck into this album. There's something about the chorus that I can't stop thinking about, but took a long time to nail down what it was that I was thinking about; but then I finally cracked it! The chorus reminds of the Divinyls' controversial classic 'I Touch Myself' and once I'd come to that realisation I just couldn't stop hearing it.
One thing that was a bit of a surprise on 'Spiritual Violence' was the raucous cover of 'Folsom Prison Blues'. Personally I thought this made it far more exciting than the original with a brilliant heavy and funky blues take on the classic. But what made this more surprising is that it isn't confined to being the final track on the album; which is the general resting place for cover versions on albums. Instead it's quite merrily just chilling out in the middle of the album to catch you off guard as you play through. Now the fact that this is one of my standout tracks on the album could raise a couple of eyebrows as it implies that I didn't enjoy the original material as much…
And in some respects, I guess this is true. 'Spiritual Violence' isn't a bad album by any stretch of the imagination and with guest spots from Phil Campbell and Carla Harvey (Butcher Babies) there's some serious firepower. However, it didn't really grab me by the neck and make me pay attention which is perhaps what I was expecting for a band that caught the attention of Lemmy. This definitely sits within that vague banner of NWOCR I would say, and would perhaps appeal to fans of the likes of Mason Hill or perhaps even Kickin' Valentina. Really though, if you're a big fan of 80s rock, like GNR, Bon Jovi or Motley Crüe then you'll probably appreciate this more than I did; and then you can feel free to tell me how wrong I am!
'Spiritual Violence' is out now. You can get your copy HERE.
All content © Über Rock. Not to be reproduced in part or in whole without the express written permission of Über Rock.