Written by DJ Monk. Photographs by The Dark Queen.
Three years after their last visit to the island of Ireland, and some five since they last ventured north of the soon-to-be Brexit-enforced border, those madcap Texans Bowling For Soup – often branded as "comedy rock" by other media outlets less well-informed than ourselves – returned to Belfast and Dublin this past week, by way of penance for not being able to make it as far as this particular corner of the Überverse on their last couple of trips across the Atlantic. Such was the anticipation around their return that the original venue sold out in seconds flat, forcing an immediate upgrade to this former printworks-come-pop-up venue.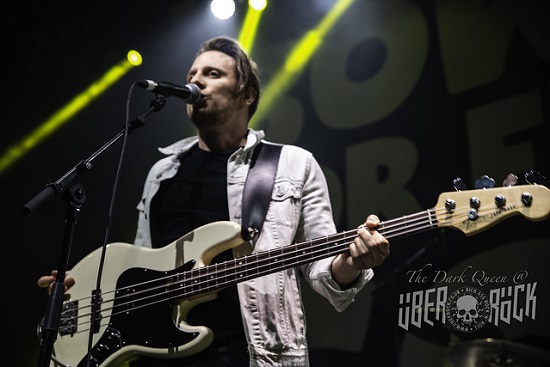 It was virtually at the last minute that Midlands combo Lacey were announced as the opening act: in fact, such was the silence on their social media that no even the promoters seemed to know who they were… which made more than two of us, as neither DQ nor myself had heard of them either! And, to be honest, we wish the situation had stayed that way!
With singer Graz Turner later revealing that this was their first visit to Belfast, the Nottingham quartet chose the cheesiest route possible to introduce themselves to the local crowd, by taking to the stage to the theme from 'Game Of Thrones'! Oh, please, pass me the vomit bucket (OK, that recycling bill will serve the purpose)! And it just gets worse as they punish us with 35 minutes of U2-meets-Snore Patrol style indie pop rock. And the mid-set medley featuring a flatter than a pancake Turner and an out-of-tune guitar highlights the excruciating nature of this woeful opening pastiche.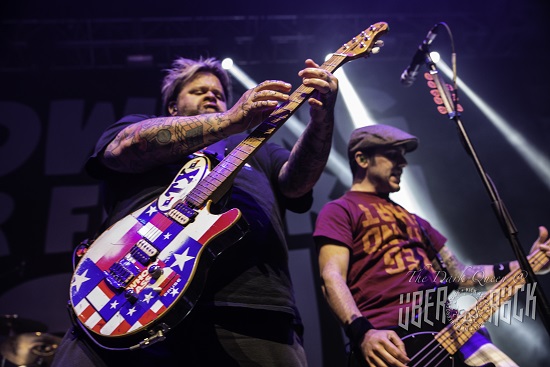 After Bowling For Soup saunter on to the stage to rapturous applause, Jaret Reddick only has to sing the first two words to opener 'The Bitch Song' before the first of the evening's almost continuous singalongs kick in. Therefore, asking "are you guys ready to do some singing" at the beginning 'Almost' is something of a pointless question, as the capacity audience is in good voice – well, most of them anyway, as there are a few young ladies (for want of a more diplomatic description) wandering around wondering when the rave music is going to start (the venue is more often used for that sort of shenanigans).
As ever with a BFS show, it is as much about what goes on between the songs as the music itself: yes, there is a heavy comedy element, but this is all about having fun and entertaining the audience, giving them exactly what they want… So, the jokes start almost immediately, as Reddick takes the mick out of himself ("no I didn't eat the singer") and his bandmates: a crack about underage drinking ("you guys start at, like, 12) immediately leads into the first of numerous references about putting fingers up each other's butts (causing Rob Felicetti to observe that he thought it "would be at least four songs in" before they came forth).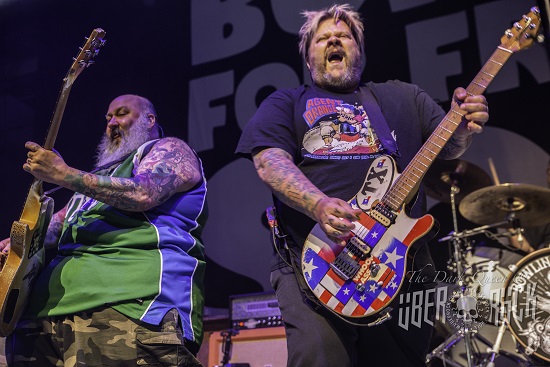 As you would expect from a one-off show, all of the big pops are in the set, with a few surprises, such 'Life After Lisa' and 'Turbulence', thrown in for good measure. Even with the lengthy ramblings between the songs, the set flies by in a blast of pop punk joyousness, which cannot do anything but have you leave with a smile on your face and the choruses to the likes of 'Stacey's Mom', 'Girl All The Bad Guys Want' and '1985' revolving around your brain for hours, if not days, afterwards.
Rock 'n' roll is designed to entertain. Bowling For Soup do that every time they take to a stage.
PHOTO CREDIT: All photos © The Dark Queen/Über Rock. You can view our full gallery of photographs HERE.
Bowling For Soup headline the Lock Up Stage at the Reading Festival on Friday 23 August and the Leeds Festival on Saturday 24 August.
Watch our exclusive pre-show interview with Jaret Reddick HERE.
All content © Über Rock. Not to be reproduced in part or in whole without the express written permission of Über Rock.