By DJ Monk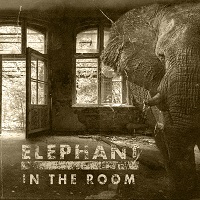 Blackballed were formed in 2012 by New Model Army guitarist Marshall Gill and to date have released an EP and a brace of albums. However, the path to the release of this, their third album, which was due to be laid down last year, was hit by one of those immoveable objects which invariably place themselves in the career trajectory of the majority of rock 'n' roll bands, when Gill's brother Leon surprisingly quit the drum stool.  However, as is also the case in such sagas, the frontman and erstwhile sidekick Tom Wibberley have dusted themselves down, recruited a new drummer (Alex Whitehead) and finally got around to proving if, indeed, the third time is actually a charm…
And if anyone was in any doubt that this would not be the case, then 'Elephant…' dispels any such such clouds from the off, possessed as it is of a confident swagger that sees it strut its path from traditional hard rock through heavy blues to stoner-cold barroom boogie, covering every back alley for the southside of Manchester to that of Las Vegas, touching down in Boston, Nashville and Seattle along the way.
Yes, the album displays a (welcome) diversity of styles, from the bluesy crunch of opener 'When The Devil Calls', the strutting Dead Daisies-esque funk of 'Someone Else's Shoes', the pumped-up Kyuss-meets-Wings lounge lizard groove of the title track to the Petty/Young-edged styling of 'Another Lonely Day', the radio-friendly AOR of 'Break These Chains', the Foo Fighters-ish post grunge of 'Bring You Down' and the positively Bloodstock-worthy metal riffiness of closer 'Mother Earth'. But, it also contains an inherent cohesiveness which ensures that these stylistic meanderings co-exist and complement one another rather than grate against themselves.
Overall, a very pleasant album well suited for sunny, summery afternoon listening.
'Elephant In The Room' is released on Friday (24 July). You can get your copy HERE.
www.facebook.com/Blackballeduk
All content © Über Rock. Not to be reproduced in part or in whole without the express written permission of Über Rock.