By Jim Rowland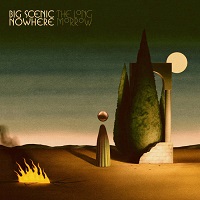 It may be pushing it a bit to label Californian rock collective Big Scenic Nowhere a 'supergroup', but with Bob Balch (Fu Manchu), Tony Reed (Mos Generator), Gary Arce and Bill Stinson (Yawning Man) at the helm, plus guest performances from Reeves Gabrels (Bowie/The Cure) and Per Wiberg (Spiritual Beggars/Opeth), it's certainly a collection of musicians with pedigree to pay attention to. Here their second full length album, 'The Long Morrow', digs further into the progressive realms the band explored on last year's 'Lavender Blues' EP, drifting away from the desert rock and psych-fuzz soundscapes of their earlier work.
The core of the material on 'The Long Morrow' is the result of a three day jam session that took place back in November of 2019 with Balch, Arce, Stinson and Reed – the same session that produced the material for the previous 'Lavender Blues' EP. Over time, the raw recorded material from the session has been edited, embellished and overdubbed to produce this rather impressive five track album, produced by Balch and Reed.
Side one of the album (if we're talking vinyl, which we should be) consists of four reasonably concise tracks, clocking in at between four and five minutes, cleverly constructed into very accessible songs that have a twisted, progressive feel to them, heading in the more progressive metallic rock style of the likes of Mastodon or even Voivod. 'Defector (of Future Days)', 'Murder Klipp', and 'LeDü' all pack a powerful punch, brimming with interesting, quality riffs from both Balch and Arce. 'Lavender Bleu', on the other hand, takes the foot of the gas somewhat to concentrate on a more dreamy soundscape. All are embellished by some quality, powerful and melodic vocals from Tony Reed.
As good as all of those are, it's side two, taken up entirely by the near 20-minute epic title track, where the album really shines. Built on a rock solid and infectious groove courtesy of the Reed/Stinson rhythm section, 'The Long Morrow' ebbs and flows in a psyche-infused progressive marathon with some outstanding guitar work from Balch, Arce and the guesting Reeves Gabrels. Per Wiberg adds body with his guesting keyboard contribution, and Tony Reed once again adds quality vocals. Clearly the centrepiece of the album, this epic 20-minute format suits the musicians involved, and hopefully hints at what can be expected next time around.
'The Long Morrow' is released on Friday (14 January). You can get your copy HERE.
www.facebook.com/bigscenicnowhere
All content © Über Rock. Not to be reproduced in part or in whole without the express written permission of Über Rock.