By DJ Monk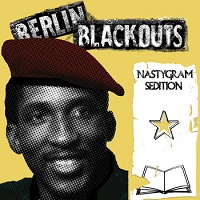 While they can't exactly be accused of prolific – this is only their third album, following on from debut 'Bonehouse Rendezvous' back in late 2015 and then 'Kissed By The Gutter', released at the arse end of 2016 – Berlin Blackouts will be no strangers to regular ÜR readers, as our former colleague Dom Daley (a man who definitely knows what he is talking about when it comes to all things glunk) positively raved about both releases.
'Nastygram Sedition' is a worthy successor to those earlier albums, and more of the same of what you would expect if you're already familiar with BB's back catalogue.
Fast 'n' furious punk 'n' roll, with big pumping basslines, riffs that serve as a rallying call to 'Make Punk Rock Great Again' and fulfil their declaration that 'We've Come To Destroy', topped off with snarling vocals that spit right your face and ask no pardon for doing so.
This is the sound of punk rockers who, in their own words, are still pissed off, and determined to prove it.
'Nastygram Sedition' is out now. You can get your copy HERE.
www.facebook.com/Berlinblackouts
All content © Über Rock. Not to be reproduced in part or in whole without the express written permission of Über Rock.