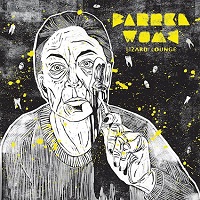 I haven't heard Nordic duo Barren Womb before but going purely on the name I feel I might be in for a tuneless screamfest. On the contrary, the metalcore band, consisting of just two members, Timo Silvola (vocals/drums) and Tony Gonzalez (vocals/guitar) describe themselves as "creating easy listening for the hard of hearing". Their core love is actually punk rock and although they've been playing together since 2004, Barren Womb was formed in 2011, after their hardcore band Like Rats From A Sinking Ship disbanded. Since then, in their more streamlined form, they've released several EPs and three albums, admitting that writing as a duo is a far quicker process. This fourth album is preceded by three singles 'Smokes, Let's Go', 'Hairy Palms' and the wonderfully titled 'Be Kind, Have Fun And Try Not To Die'. 
New album 'Lizard Lounge' is touted as being uncompromisingly diverse, something the band are well known for in the Norwegian underground scene. First offering 'Cemetery Slopestyle' is in keeping with punk tradition at only a minute and a half long, but what is achieved in that time is impressive. A balls to the wall screamathon it is a fine demonstration of the bands hardcore roots. 'Karma As A Tour Manager' is as strange a track as the name suggests, it's mellow but it keeps your attention until it descends into a chaotic finale.'Hairy Palms' begins with a funky guitar rhythm before breaking down to almost a different rockier sound entirely while 'Crop Circle Jerk' sounds as if its staggering along after the drunken vocals. It's unusual, yes and hard to properly describe, but I really like it.
The drumroll at the start of 'Smokes, Let's Go' tells me right away that I'm in for another blistering track. Fierce and catchy, if maybe a minute too long, it's an impressive and raw offering. 'Molten Pig' rolls to an original guitar rhythm. It sounds wonderfully authentic and minimally produced. The speaking vocals are a change of tack, but are another sign of the original approach of Barren Womb. This band goes where it wants, unfettered by rules.
Towards the end of the album it gets heavier. 'Nerve Salad' is a head shaker, which when teemed with screaming guitars and screeching vocals invokes an eerie sound. The melodic chorus in 'Be Kind, Have Fun And Try Not To Die', is unexpected, but will be hard to forget and there's a fuzzy quality, reminiscent of garage punk. Feedback introduces 'Hydroponic Youth', and an extended lumbering rhythm takes you to two and a half minutes where a clashing breakdown with moaning guitar brings Pink Floyd to mind. Thankfully it doesn't go on as long as they might have and comes to an abrupt finish. 'Lizard Lounge' ends with 'You Do The Meth', hardcore thrash metal where the vocals sound different yet again. There's a sample of a woman talking about drug use in the middle and a disorganised rush towards a sudden ending. Lights out and that's it, closing time at the Lizard Lounge. Turfed out on the street feeling more than a little bizarre.
What a name for an album. It couldn't really be more apt. At the start you know what you're dealing with but the more you get into the night things get blurrier and a bit mixed up. There are some really enjoyable and unexpected moments before things get chaotic and it's time to go home. Well this sounds like a good night out in Glasgow to me anyway. In all honesty, I was pleasantly surprised by 'Lizard Lounge'. Not because it reminded me of familiar nights out but because it wasn't what I expected to hear at all. I like that Barren Womb go their own way. They're hard to pin down, a bit out there. I love the raw sound. I'm just not so sure about their name… Oh well, you can't have everything.
'Lizard Lounge' is released tomorrow (Friday 22 May). You can get your copy HERE.
All content © Über Rock.  Not to be reproduced in part or in whole without the express written permission of Über Rock.