Written by Gerald Stansbury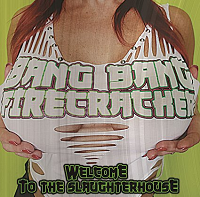 Between the name of the band and the name of the album, I wasn't quite sure what to expect back when I listened to this for the first time. This hits as a modern hard rock album with nods to the classic rock of the past as well as some of the elements of bands like Lamb of God. It definitely could create some interesting dynamics if some changes were made, but the guitar work by Kieron Berry here is extremely well done. Berry credits Chris Holmes with really inspiring this album after being on tour with him, as it kickstarted him writing the songs for this project. At the end of the day though, it just doesn't do it for me.
Launching with a song called 'All Thriller No Filler' is quite the cocky statement, and I would love to say that this album totally connected with me. Instead, this becomes a frustrating listen for my tastes as there are bits I really like, but it ultimately doesn't grab me. I really like the subtle guitar in the opener, but the mix seems to swallow up a lot of the subtler elements throughout the verses and chorus. I end up enjoying the instrumental passages here more than the song itself. Berry' vocals serve the song well but leave me wondering what a singer with a more dynamic voice could do with the song. 'Devil Dolls' opens up with a cool guitar riff that makes me think much more of thrash than modern rock. The double bass adds some power to the beat, but I am again caught with my mind wandering each time. It doesn't help when Berry adds 'yeah' right before leading into the chorus as it just doesn't work for me. I don't get power or intimidation from it but more like it was to show someone else the vocal parts in the mix. Up next is 'Hellbent for Pleasure' which, despite the silly title, has an awesome song in here, but this performance just misses the mark for me. I would love to see Berry play this with a band for a year and then redo it as I think it could become really special with some added ingredients included. The guitar playing is excellent, but it could see some different vocals and lyrics to really elevate it.
'Immortalized' continues the sonic assault with seemingly everything in the red, and nothing really popping out at me. At the midway point, 'The Non Believers' fares a little better with me as the riff itself has some more breathing room, but it just becomes lost in the waves during the verse and the same sounding vocals leave me bored. If there was someone with the dynamics of Ripper Owens or the conviction of Matt Barlow, this album would move up several notches for me. At one minute in length and the word firecracker repeated, 'Outro' really does not offer anything here and simply serves as filler.
The final third of the album opens with 'Tasting Hatred' where there is again some great guitar work by Berry. This is another one where I think there is an excellent song here, but it needs some more development and a warm mix that lets the instruments breathe. The title track begins with some very nice piano work that I really enjoy and leads into some great riffing by Berry. There is a vocal pattern that is briefly repeated from earlier in the album which has made me wonder if there is a concept or story at work here. Each time I have played this I have tried to determine if the mix and mastering is more to my liking here or if it is just because of how they lead into it with the piano. Closing out the album (mercifully) is 'Witch Proof' which excites me each time because I know the album is almost over. I am again just left with my mind wandering, and Berry really doesn't even showcase his guitar work here.
Kieron Berry can clearly play the guitar extremely well, but I think he would be much better served partnered with a singer who can also play and write. I struggled each time to make it through this album as these songs as they are presented do not connect with me at all. I will say this though as I once listened to a portion of a Chris Holmes solo track, this is better than that. And let's not even talk about the ridiculous cover to the album which doesn't match the songs in any way.
'Welcome to the Slaughterhouse' is released on 22 February. Unfortunately, we couldn't find a link to allow you to buy the album for yourself.
www.facebook.com/Kieron.Berry.Guitar/
All content © Über Rock.  Not to be reproduced in part or in whole without the express written permission of Über Rock.