Words by DJ Monk. Photos by The Dark Queen.
Some things never change – and thank the gods of rock 'n'f'n' roll for that! It had taken almost four decades of begging, cajoling and pleading by their most über of über fans to get the band with the most heavy metal name in heavy metal to make their first visit to this little corner of the Überverse. And, now, here they are again, a little over two years down the line, and it's almost as if time has stood still in the interim… but, we'll get to that in a bit…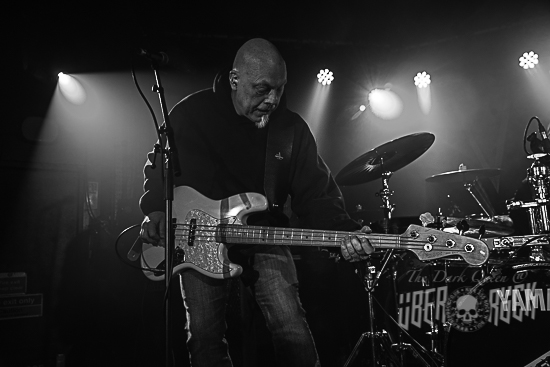 It's a rare touring triple bill, and first up we have West Midlands power trio Electus – who immediately ask the unanswered question of why the fuck frontman Russell Peake has elected (sic) to wear a cheap-looking Al Jourgensen wig: it just looks tacky and, erm, cheap! They rattle through half an hour of what can best be described a mid-league Sunday afternoon pub rock, mixing things up stylistically, but not in a good way. Nevertheless, it is a solid set, with some neat grooves and gritty edges, which serves up a lukewarm appetizer for the still sparse crowd.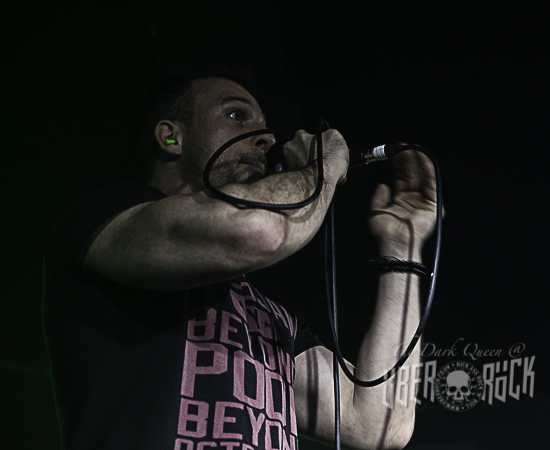 The tone of the evening changes somewhat with the European union (sic) of Ragdoll Sunday, who, from what we can tell, draw their membership from Italy, Greece and Spain as well as the dear old Über Kingdom. They deliver bouncy nu-metal tinged alt-rock packed with plenty of musical energy coupled with big crunchy riffs, a good sense of melody and a well-balanced mix of clean and dirty vocals. The second half of their set serves as a preview for their forthcoming second EP, 'Welcome To The Industry', and demonstrates an interesting mix of styles, including some very progressive guitar work. The introduction of drumsticks with LED lights on the end of them is a neat visual touch, especially in view of the shit lighting, and the end result is an energetic and exuberant set which no doubt won them some new fans, despite the disappointing turnout.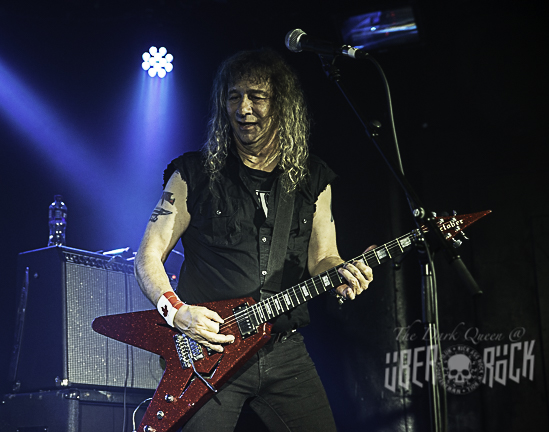 As is their wont, Anvil are no sooner on stage than Lips is straight back off it, positioning himself in the middle of the floor, surrounded by fans, lifting his guitar to his face and, using his pick-ups as a microphone, declaring "We are Anvil – and we play heavy fucking metal", before launching into 'March Of The Crabs'… it's just as well it's an instrumental! But, then, they ARE Anvil and they have been doing things their way for 40 fucking years!
Now, I mentioned that some things don't change, and so far they aren't changing, as, as on their last visit, despite again having a new album to promote, Anvil know what the fans want to hear, and that's all their favourite classics. So, they dive straight into their extensive back catalogue with the repeated one-two double whammy of '666' (dontcha love the way Lips intonates, almost Sean Connery style, to make it sound like 'Sex Sex Sex'?) and 'Oooh Baby' – between which Lips references the age profile of the audience: "I can see grey hairs, or in some cases no hair… hell, I'm 64 going on 46!"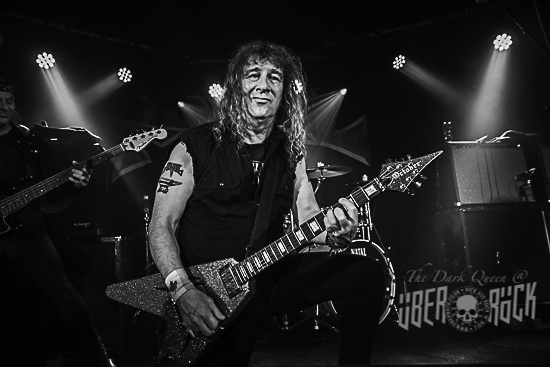 In fact, outside of tracks from 'Legal At Last', the setlist is almost virtually identical to that played on their last visit: 'Bad Ass Rock 'n' Roll', which is prefaced by a joke about Chuck Berry sharing a cell with the newly imprisoned Harvey Weinstein, gets the first big fist-pumping, clap along, singalong of the evening going, before the trio unleash those 'Winged Assassins', complete with its extended call-and-return bass intro.
Lips is in great form, and the stories are flying out of him, from talking about watching Elvis on TV to partying with Lemmy and appearing naked in that now infamous scene in the 2008 documentary that re-ignited their career and helped them, finally, become full-time musicians. But, of course, the most mischievous part of the set comes during 'Mothra', when the frontman launches into his trademark "dildo solo": now, according to my better half, Lips has said device turned up to maximum intensity: I could not possibly comment on that assertion, but what I do know is that the result is as hysterical as it is inanely brilliant.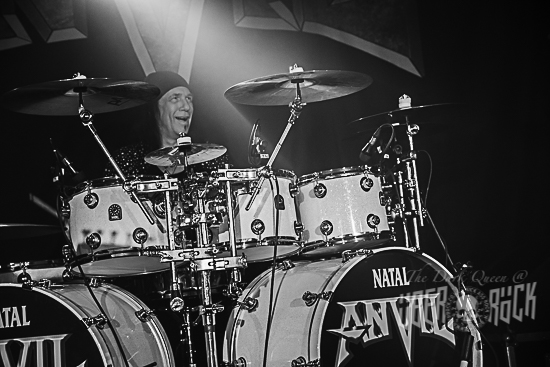 Of course, no Anvil set would be complete with Rob Reiner's traditional drum solo, Lips once again leaning against the brick wall at the side of the stage, the warmth of his smile permeating through the PA and into the room, before they race headlong towards, and past, the advertised finish time of 11pm; as Lips says, "there's something about metal that makes you forget all your problems" – and one of those problems is time! Not that we care a jot: we're having too much fun – and, despite his earlier protestations about his age, so is Lips, meaning that, by the time they finally quite the stage after a two-song encore, they are just seconds short of the two hour mark for this highly entertaining showcase.
The next time someone tries to tell you that heavy metal is dead, do them a favour: buy them a ticket to an Anvil show, handcuff them to the barrier and dare them to repeat their misguided assertion. 'Cos this is what it is all about! And long may it continue \m/
'Legal At Last' is out now. You can get your copy HERE.
The tour continues at the Queen's Hall in Nuneaton tonight (Friday 13 March).
PHOTO CREDIT: Photos © The Dark Queen/Über Rock. You can view our full gallery of photographs HERE.
All content © Über Rock. Not to be reproduced in part or in whole without the express written permission of Über Rock.