By DJ Monk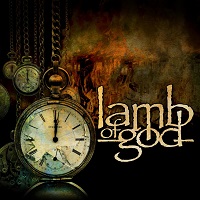 Blues Pills and Lamb Of God are the latest artists to announced that the releases of their forthcoming new albums have been delayed. Lamb Of God have put back the release date for their forthcoming self-titled album to 19 June, while Blues Pills have postponed the launch of their 'Holy Moly!' opus indefinitely.
Lamb Of God will be compensating fans for their delay by releasing a third single from the album, 'New Colossal Hate', this coming Thursday (23 April). In a statement, the band said:
"Regrettably, we have to announce that the release date for our upcoming self-titled album is being moved five weeks, to 19 June. We're in extraordinary times due to the current global reality and the delay of shipments of all-but essential goods needed in the fight against COVID-19. After talks with our labels, there is no other option than to delay the release so that fans who pre-ordered the album can receive the record they paid for. 
"We appreciate your patience during these times – a global pandemic is not something people in the music industry usually take into account when scheduling album releases, but as you know, this thing has affected everyone across the board, and we are no exception. We will, however, be releasing a new song, 'New Colossal Hate', this Thursday, 23 April, and plan to release a fourth song from the album before the full album is released in June.
"Thank you for your understanding. Wash your damn hands, let us know what you think of the new tunes, and see you on the road sometime!"
Blues Pills – who themselves had released a new single, 'Low Rider', just ten days ago, said of their decision to delay the release of 'Holy Moly!', which will be the band's third studio album:
"It's with a heavy heart that we must tell you that our new album "Holy Moly!" must be postponed. Due to the situation with Covid-19 it's impossible for us to go on with this album release according to plan. Festival after festival is getting cancelled, borders are closed and we feel we cannot go on with this release to make it the best.
"We put so much into this, over a year of hard work in our own studio and we miss you fans out there SO much. This situation breaks our hearts, we were excited to share this with you. The album, the festivals, the upcoming tours.
"We hope to have more information during the next week. But the album will be released, we're just pushing the release date and we're still thinking if we should go on releasing singles but over a longer time. Or take a break and continue the release when we decided when the album will be released. We want to share this with you so bad, and we will. But now the most important is to take care of each other. Stay strong, stay healthy. Support bands and artists you like, keep the rock rolling. WE LOVE YOU."
Both Blues Pills and Lamb Of God are signed to Nuclear Blast, and both they and the label are not the first to have been forced to push back release dates for new material. Milan-based melodic rock specialists Frontiers Records had already postponed the release of new albums from FM, One Desire, Dennis DeYoung, Her Chariot Awaits and Pretty Maids from their originally scheduled dates of 10 April to 22 May, while those from Magnus Karlsson's Freefall, House Of Lords, Electric Mob, Smackbound, Paralydium, Blue Oyster Cult and Vega, which were all due to be released on 8 May, have now been postponed until 16 June. Another Italian label who have been badly hit are Heavy Psych Sounds, who have had to delay releases by the likes of Brant Bjork, Black Rainbows and Geezer to the end of May or the early part of June. The new albums from DeVicious and The Headlines, which were due out on Friday past (17 April), has been pushed back to 8 and 22 May respectively, while two AOR Heaven releases, from Captain Black Beard and Stoneflower, have been rescheduled from this coming Friday (24 April) until 15 May. Another album due to be released this week,  from The Doors guitarist Robby Krieger, now will not surface until mid-August.