By DJ Astrocreep
An evening of music ahead with the criminally underrated Whitfield Crane and a single support act in Mr Shiraz. It's pretty easy to forget or overlook quite how much Whitfield has done in music – while people will probably be aware/fans of Ugly Kid Joe, how many know he toured singing for Life Of Agony for a year, his work with Medication, Glenn Tipton or being consistently invited to appear on all-star cover albums of bands such as Black Sabbath, AC/DC, Aerosmith, Metallica and more? Touring in support of his various projects, including the above named and the likes of Richards/Crane also, this really should be something a bit different.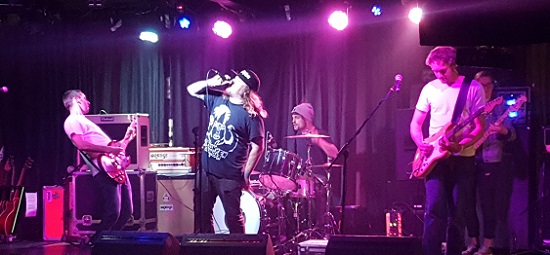 So, where to start with our support for the evening? A groove punk act, hailing from Huddersfield, Mr Shiraz have no airs nor graces about them but are absolutely down to earth and fun. Whether it's one of the vocalist Mike's stories when introducing a song – some may be anecdotal, but probably never deliberately, or the sheer well-natured feeling of the tracks, such as 'Labracore' or 'Heavy Song With A Fast Punk Intro' (I may have that name slightly wrong, but it's close if so!) There is a lot of humour about everything they do, though the songs are quite often catchy and enjoyable. While Mike steals the stage with his personality, bassist Tori is hiding at the back, doing an excellent job in a very understated manner, hinting at a genuinely talented musician. Both guitarists perform their jobs well, alongside drummer Iain, meaning they do a very good job of warming the sparse crowd up. A very good set and certainly adequate support on their own for Whitfield and co.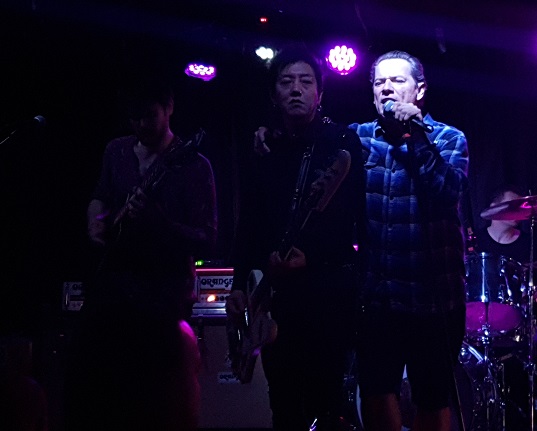 On to our headliners and Whitfield is in irrepressible form from the off, showing all the experience he has gathered over his almost three decades as a frontman. Seemingly unperturbed by the small crowd – a tragedy in itself for the sheer quality we get through the evening – we all get beckoned forward from the off, with Whit and his band – formed of Haggard Cat members Matt on guitar and Tom on drums and bassist and backing vocalist Toshi of Slaves to Gravity – with Whit knowing just how to get us all motivated. The reaction of the people around me says we are enjoying ourselves, but Whit just has to check. Speaking briefly to a couple of people in the crowd – myself being one – we find another guy has come over Belfast for the day just for the gig, while I'm doing a 70-mile round trip after working prevented me going to my local show.
The set is immaculately curated, with each of the musicians performing their cuties immaculately. I feel I have to echo something I mentioned in the opening paragraph now, namely that Whitfield is criminally underrated. His vocals, both in range and tone, are absolutely incredible – he is a seriously talented individual, while his control of the audience in his mannerisms and the way he talks to us means it's impossible to not be captivated by the performance. It's actually hard to pick highlights from the set, such is the standard right the way through, but if pushed, hearing the likes of 'River Runs Red', 'This Time', 'Here In The Light' and 'It's A Lie' really is something else. The band don't do the fake ending to garner shouts of the encore but do encourage loud shouts to determine the length the set is extended by – we get three.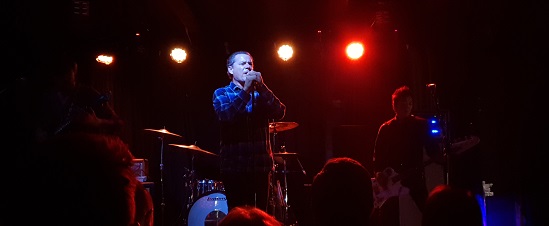 The very ending is the only time in the night that I can have any complaint, as they finish on 'The Green Manalishi (With The Two-Pronged Crown)' and announce it as a Judas Priest track, when it's originally a Fleetwood Mac track, though the JP cover of it is much better known. Not that this takes any of the actual shine of the evening, everything being so well performed, more the music nerd in me screaming inwardly. Whitfield's manner right through, the sense of humour he delivers everything with and that comes as easily as his ridiculously talented vocals make for a completely compelling evening. Hurry back!
PHOTO CREDIT: Photographs by the author.
All content © Über Rock. Not to be reproduced in part or in whole without the express written permission of Über Rock.