By John Bedard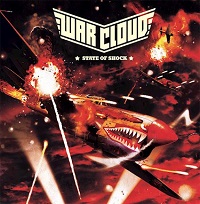 'State of Shock' is deliciously old school. What War Cloud has made here would fit right in with the music we know and love from the 80s. There are elements here that call back to Deep Purple or AC/DC among many others from the era, but War Cloud manages to be very much their own thing instead of feeling like another band simply trying to copy what worked for others before. I think these days it is hard to be your own thing while following in the footsteps of the greats. They manage it here and it is good to see.
For me, music in this style is more about the experience. Track 2 "White Lightening" probably captured this the best for me. It is loud and fast-paced and a lot of fun. It brings to mind the wide-open American roads and speeds a little too fast with a blarings stereo. I can tell you it feels right at home there too. The rest of the album also fits right into a great road trip as well. The whole album is just a great feel-good experience that goes really well, as cheesy as it sounds, in an adventure.
Musically, the mix is rather good; however, I do think that the vocals are a bit low at times and tend to get lost. It doesn't take too much from the overall experience and is not a deal-breaker, but it does need to be mentioned. Other than the vocals though the rest of the mix is well put together. The guitar is nice and clear with a very enjoyable crunch. The bass and drums are punchy and well defined and do really well to drive the music. This makes for a really fun, but unfortunately kind of short album.
'State of Shock' is definitely one that is worth a buy. I do not think you will be disappointed. It is a great album that is very enjoyable and will go well with whatever you are doing. Whether that is work or a road trip or a party with friends this goes well. Many of the songs I felt would fit right at home in Dean Winchester's Impala from 'Supernatural'. It just has that fun, something bigger, vibe to it. I think that many great memories will be made while listening to this album. It is well worth the ride.
'State of Shock' is released on 27 September. You can get your copy HERE.
War Cloud play Ripplefest, alongside Stubb, Psychlona, Trippy Wicked And The Cosmic Children and Plainride, at the Black Heart in Camden on Saturday 21 September.
https://www.facebook.com/warcloudiscoming/
All content © Über Rock. Not to be reproduced in part or in whole without the express written permission of Über