Introduced by Monk
London-based cyber punks The Kanz believe in doing things the old-fashioned way, by releasing a fuckton of singles over the past five years or so… and they have a shed load more in the pipeline, with the most recent being released just this past Friday, which provided us with the perfect excuse to catch up with workaholic frontman (and sometime actor) Fabio Nania to find out what makes him, and the rest of the band tick…
Of course, this feature being called 'Über Rock Introduces…', and the beginning usually being the best place to start, I began by asking him to introduce the rest of the band and tell us how the current line-up came together: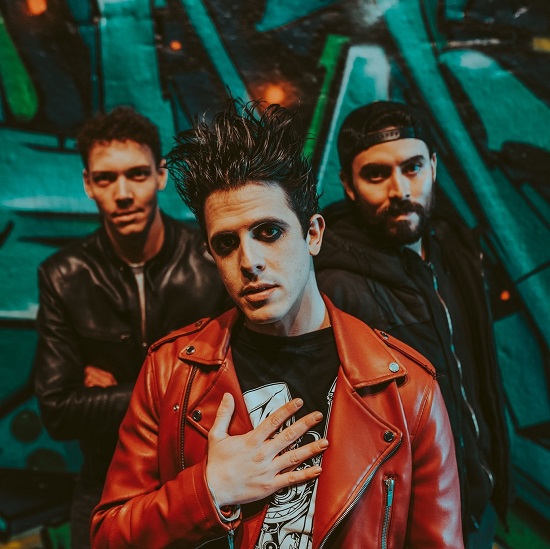 In addition to me, there is Jan Zwiebel on the drums and Callum Tanner on the bass.
In 2017, when I was 25 years old, I decided to leave my country (Italy) and follow my dream of a career in music as an independent artist. I decided to come to London because London was one of the best places for the music industry and there was so much going on. So, after I landed in London and found a job as a Toy demonstrator I started going around performing at open mics on my own and meeting musicians everywhere I could. This way I had a chance to meet likeminded people. I also started music university in London (ICMP Institute of Contemporary Music Performance) which inspired me even more at doing what I do.
At uni, I met the people who later became my bandmates, and I officially founded The Kanz with the purpose of creating something new and original that would break the boundaries between pop punk rock and electronic dance music. After various changes in the line-up throughout the years I met Jan.
When Jan was given the chance to perform as a drummer in our music video for the song 'Take It All' we immediately thought: "Oh wow, that's cool… Hey man! You should stick in the band!" and so, there you go… Jan joined the team giving such a professional and excellent contribution to our music. Bass players changed a lot as well through the years. At the moment, Callum Tanner is playing with us. The line-up is solid, and we are ready to kick asses.
Personally, as a historian, I have an interest in etymology, so I feel have to ask about where the band name came from and if it has any special significance…
We were sitting in a pub in Kilburn, London called The Brondes Age' discussing what could have been the official name of the band. We weren't getting many inspiring ideas, probably due to the amount of alcohol we were drinking (or other unspecified reasons hah). Suddenly the drummer noticed some empty cans of Coke laying on the table of the pub and shouted, "We could be the cans!" And I know it sounds total bullshit, but I can assure you that in that precise moment the sound of that word unexpectedly fitted so well! It was direct! It was explosive! It was cool and most importantly it was easy to remember.
So basically, we just added a "K" and a "Z" to the name because those are two letters that have a peculiar sound that can possibly remind us of sci-fi, cyberpunk, futuristic samples often used in the production of our songs and showing off the 'electronic' vibe of the band's sound. So, there it is: The Kanz. I hope you like it. If not… whatever."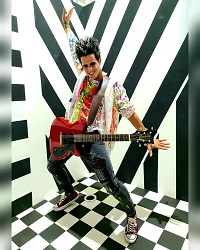 Does the name reflect what you are seeking to do/achieve as a band?
"The Kanz", as a band name, gives me cyberpunk, powerful vibes just by the way you pronounce it, so yes, I think it reflects it well, even though it doesn't have a particular meaning, it's about the way it makes you feel when you pronounce it. Also, it's quite easy to remember. Just four letters!
Music is categorized into various genres and sub-genres. How would you define your sound? What individual and collective influences do you draw on for your sound?
I would define our band as an electro pop punk band.
Rock music, and especially punk rock for us, is the key to reveal your true self and express yourself. Cause there is really no time to hide yourself in life. You just want to feel free, and you want to feel like you don't have to put a mask on. Punk rock is an attitude. We believe in this because thanks to punk rock our life "tastes" more like actual freedom, but it also gives us a chance to accept life no matter how much shit gets thrown at you. You can walk in the dark alone. You don't need to be afraid of who you are. And with rock music you know there are millions like you that feel the same. Broken souls looking for the light at the end of the tunnel. And so, we say that we can look for it together, through the power of music. That's the Kanz's mission in my opinion. And we do it in our own way of course. Taking a step forward from the classic pop-punk vibe of the 90s-2000s and bringing it to the next level: the digital, electronic, cyberpunk, sci-fi era.
Regarding influences, there are quite a few bands that I consider my "all-time favourites" and that inspired me to make music: Green Day, My Chemical Romance, Muse, Linkin Park, Blink 182, Sum 41 are definitely at the top of the list. But I also love artists from different genres such as Alan Walker, Avicii, Kygo and my favourite music composer Hans Zimmer.
You have just released new single… can you tell us a bit about it?
Our new single, 'Stoned', is a declaration of love made by a very shy and insecure teenager who can't really express his feelings as they really are, and instead, prefers to create an avatar of himself: invincible and desirable in the eyes of the world, in an attempt to hide what is really happening under the surface. This continuous "faking himself" makes him feel Stoned. And that's the reason for the title of the song. Everything is always expressed through an "anthemic" approach as most of our songs and the electronic/EDM bits make it quite unique in my opinion.
Are there any particular lyrical themes/personal issues you are addressing in the song?
I wrote 'Stoned' thinking about the time of when I was around 14 years old and I was trying so hard to impress a girl I had a crush on by behaving like I was so confident, mature and alpha-kind of man. Acting as if I was the guy that could always make her laugh, that could always make her smile, always make her happy. I was trying to entertain her everyday as much as possible with the purpose of making her fall in love with me. It was basically like a very exhausting show to improvise everyday so that she would notice me and so that eventually she would choose me as her new boyfriend!
But the underneath truth is that, inside of me, I was feeling very insecure and so sad because she didn't seem to be interested in an actual relationship with me and I was definitely not feeling confident with myself. I had so many severe insecurities. Therefore, every time I was seeing her, I was feeling some kind of anxiety mixed up with excitement that led me to feel like I was "stoned" as a similar feeling to when you're high or a bit dizzy. An alternated status of the mind in which I am not being myself anymore but, instead, I am putting a mask on my face, acting like I am somebody else, acting to impress the person that I wanted the most in my life, in this platonic love story that seemed to be happening only in my dreams.
How important is social media in getting your music out there?
In my opinion social media really helps you a lot connecting with your audience. Social media platforms are built off of a community and this community is built off interactions, through text, images, audio, and videos. These four forms of communication can be used in all shapes or forms to send a message to your audience on a global scale for free. This is an incredibly powerful tool to have as an artist. In the blink of an eye, you can share your latest track, chat with someone from Philippines about your latest show, live stream your studio session, and sell tickets to your next show through images. The biggest building block for any artists' career is always gonna be their audience and social media provides you with a free opportunity to market yourself. All the major social media platforms are free to use and can reach a global audience. This fact alone is the reason why social media is a "MUST" for artists nowadays.
Is it more important than, say, streaming outlets especially given the fact that the financial returns for streaming can mean a band doing a lot of work for relatively little reward – i.e. you earn very small percentage returns, with the services themselves taking large chunks of your potential income. Is it worth the effort, or is it a fact of the business that you just have to accept?
As much as I don't agree with how little artists get paid from the streams, they get on streaming platforms, I think there is not much we can do about it. There are so many artists and so much music out there. All of them just want to do what they love (music) whether they get paid for it or not. Streaming platforms know this, and they take advantage of it. I guess this is just how the market works. I think musicians nowadays should focus more on making money with merchandise, gigs, events, live streaming shows etc.. as they seem to be much more profitable compared to online streams.
The pandemic of the past two years led to a log of bands having to explore other methods of generating income marketing themselves. I'm thinking of how many bands found themselves having to go down the live streaming route. And a lot of them charged their fans for watching the shows. I know there are pros and cons to "free" versus "pay per view", but as a young band I'd be interested to know if, given the shitfuck of the past two years, it is more important for you to get your music out there than to make money out of doing so? I guess the point I'm making is "is it worth some short-term pain for long term gain"?
Well, you only live once, right? and during the short time you get to live on this planet you want to make sure you do what you love, having a great time with people that are like minded, perhaps having a purpose of changing the world, sending an important message or just creating something beautiful. I think those are the main reasons why people make music. They don't decide to do this for the money. Of course, If the money comes in that's a double win. But I don't think real artists can stop making music just because there is no money coming out of it. They will keep doing it because it is a therapy, it makes you feel good, it feels right! Said that, I think it is also worth some short-term pain for long term gain. We are gonna work hard every day just like we have been doing so far. Cause if there is a chance to make it in the music industry, achieving your dreams of having a career as an independent artist, getting paid for what you love to do – I don't think you would want to miss it. So, we are always gonna work hard for it.
Life does seem to be getting back to some form of normality, but do you think the option of things such as lives streams will continue to be used by bands, especially to reach into territories where they may not be able to play, or afford to go to?
Yes, absolutely. I think social media and live streams are such a great way to reach audiences and will be forever used by musicians as a way of connecting to fans overseas.
So, what is next for the band? What is the plan for, say, the rest of 2022 in terms of getting out there and bringing your music to new and expanding audiences?
We have 13 more singles in the making, and we are gonna release them one by one in the next months. We are really excited about them! We have been playing a lot of gigs in the UK since September last year while producing the songs in the studio and we are now ready to release them to the world together with a lot of surprises too. As per next gigs, I think we are gonna take a little break for a couple of months to focus on finishing out the new songs and then start arranging the next tour in the UK.
OK, now a bit of fun, and a couple of quickfire "out there" questions to give us a wee bit of an insight into your personality:
Ice cream: vanilla or strawberry? Strawberry!
Gravy or curry sauce on your chips? Curry
Salted or sweet popcorn? Sweet popcorn!
Buckfast or Iron Bru? I don't know. I always order lemonade.
Smarties or M&Ms? Smarties!
Pineapple on pizza? No thanks. I am Italian.
Final question: when live gigs are fully up and running again, and you have your choice of any bill to be a part of, who would be the three other bands (signed or otherwise) you would choose to play with?
We would love to share the stage with Machine Gun Kelly, Yungblud and Avril Lavigne!
www.facebook.com/thekanzofficial
All content © Über Rock. Not to be reproduced in part or in whole without the express written permission of Über Rock.