Introduced by Monk
Having already earned a massive thumbs up from my colleague David O'Neill – and, believe me, he knows a thing or three about a tasty tune – south Wales alt-rock quartet Colours Of One released their debut album, an opus some ten years in the making, this past Friday.
So, what better excuse to head back into the valleys and find out a bit more about the band and what makes them tick… The first task, of course, given the name of this feature, was to get them to introduce themselves…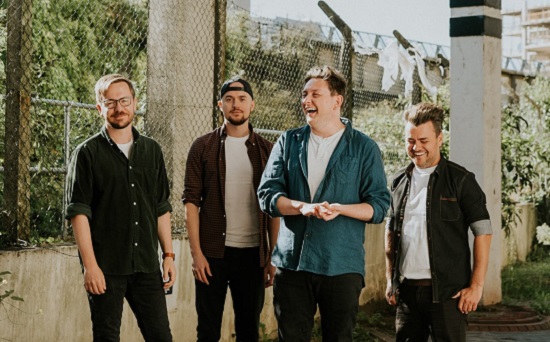 [We are] Michael Simmonds-Dickens (vocals / guitar), Miff Tuck (guitar), Lewis Morgan (bass) and Paul Jones (drums).
How did you come together?
Michael: Miff and I have known each other since 1997, having met in school. We began jamming together in 2002, through a mutual love of pop-punk and decided to form a band. We met Paul in 2003 through a mutual friend and together we rolled from one band to the next settling as Colours
Of One around 2008. At that stage our line-up was completed by another school friend, Rhys Hart (guitar), and Chris Dower (bass). Chris and Rhys would eventually leave the band to pursue other things, but we remained on good terms, and they returned for cameos in our 'Eden' music video.
We met Lewis on the South Wales music scene in 2011. We were regular features of the scene at that time, as was Lewis through his bands, Frames and Alternative Expression. When Rhys left in 2013, we were somehow able to convince Lewis to join us. Most likely the worst decision he's ever made.
Personally, as a historian, I have an interest in etymology, so I feel have to ask about where the band name came from and if it has any special significance. Does the name reflect what you are seeking to do/achieve as a band?
Michael: I wish there was an interesting story or meaning behind our name but alas, not. One of our collective influences around the time we formed was Incubus, and our name was lifted from the lyrics of their song 'Redefine': "So modify this third rock from the sun/By painting myriads of pictures/With the colors of one". We just spell it the British way.
Music is categorized into various genres and sub-genres. How would you define your sound? What individual and collective influences do you draw on for your sound?
Lewis: We are primarily an alt-rock outfit and we try to focus on solid song writing and a larger than life, cathartic sound that resonates with people. We try to combine elements from the bands that we listened to growing up (Soundgarden, Smashing Pumpkins, Jimmy Eat World, Biffy Clyro) with the more modern influences (like Lonely The Brave, Bon Iver, Twin Atlantic, M83, etc).
You have just released your first album, 'Vessels'. Can you tell us a bit about it?
Lewis: 'Vessels' is a DIY project we've been recording/producing ourselves for quite a while, it's been a long time coming! We initially wanted to record an album because it seemed like the obvious 'next step' after the clutch of EPs that we'd released, but it turned into something so much more than that! Writing an album was a huge learning curve for us. We took inspiration from the albums we listened to growing up, albums you'd play from start to finish (without skipping) as a form of escapism. Yes, there's a bunch of individual songs, but they are all a part of the 'bigger picture' that the album tries to paint. We spent a long time whittling down ideas to create a cohesive, lowing body of work that we are all extremely proud of.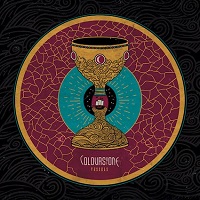 In 'Vessels' we played around with a lot of different production elements and instrumentation like synths/strings/brass to push ourselves into a more unique sound that we haven't managed to achieve before. I like to imagine that whatever we do in the future will be even more adventurous in terms of combining the different facets that make our sound.
Are there any particular lyrical themes/personal issues you are addressing in the songs?
Michael: Lyrically there isn't really a theme in the album. We've always been a band that likes to explore the personal and the social with our lyrics, and that has continued on 'Vessels'. We have very personal topics, such as grief ('Stay Awake') or relationship breakdowns ('Control'), but also there's social commentaries on topics such as trickledown economics ('Eden') and right-wing ethno-nationalsim ('We Take Care Of Our Own')…
For the avoidance of any doubt, we are very much against right-wing ethno-nationalism.
How important is social media in getting your music out there? Is it more important than, say, streaming outlets especially given the fact that the financial returns for streaming can mean a band doing a lot of work for relatively little reward – i.e. you earn very small percentage returns, with the services themselves taking large chunks of your potential income? Is it worth the effort, or is it a fact of the business that you just have to accept?
Michael: My perspective is that for all its ills, social media is integral to getting your music heard these days. The amount of time people spend online, particularly social media platforms, means that there is a tremendous opportunity for bands – if they do it right – to reach a receptive audience. I don't think it's an either or between streaming outlets and social media, both are important in different ways.
Social media is a gateway to interact with fans and develop the fanbase that will keep coming back to you on the streaming services. And yes, the income for bands from streaming is negligible, [but] streaming is very much part of the industry now, that horse has long bolted.
The pandemic of the past two years led to a lot of bands having to explore other methods of generating income and marketing themselves. I'm thinking of how many bands found themselves having to go down the live streaming route. And a lot of them charged their fans for watching the shows. I know there are pros and cons to "free" versus "pay per view", but as a young band I'd be interested to know if, given the shitfuck of the past two years, it is more important for you to get your music out there than to make money out of doing so? I guess the point I'm making is "is it worth some short-term pain for long term gain"?
Michael: Fundamentally, I have been doing this in some form or another for nearly 20 years and have never really made any money. The revenue that we have been able to generate through sales and gigs is all reinvested in the band to create the next project.
Money clearly isn't a motivating factor. It's all about being creative with my best friends and releasing what we have made to the world. Now, that isn't to say that we don't try to be savvy, and make some money where we can, or that our long term goal isn't to eventually get to a place where we no longer need day jobs, but I know I'm going to be doing this regardless in 10-20 years' time.
Lewis: What Mike said. Ultimately, we want our music to reach as many people as possible; and I imagine a lot of other artists feel the same. The live-stream sets were great and I actually discovered a lot of new artists over Covid because of them. They're a great example of creative people adapting quickly and thinking outside the box, and I think being able to do that is vital to achieving whichever kind of success you're looking for, really.
Life does seem to be getting back to some form of normality, but do you think the option of things such as lives streams will continue to be used by bands, especially to reach into territories where they may not be able to play, or afford to go to?
Michael: I think live streams will continue to be used by some bands as additional content. I don't think it can ever replace live music though. A big part of the appeal of live gigs is the atmosphere, you can't replicate that from home. There'll be a space for both moving forward – no doubt.
Lewis: I think both will exist together just fine. As Mike said, you can't replicate the electric feeling of a gig at home. However, the potential reach that a live stream has is so cool to think about. I really want to see more live streaming from independent, grassroots venues. I think it's a really exciting opportunity to provide a window into where 'the magic' happens.
So, what is next for the band? What is the plan for, say, the rest of 2022 in terms of getting out there and bringing your music to new and expanding audiences?
Michael: The next step will have to be getting out and playing some shows. We've had an extended hiatus from playing live due to finishing the album and the lockdowns in response to Covid 19. I'm really looking forward to getting on stage again, and performing the album live.
OK, now a bit of fun, and a couple of quickfire "out there" questions to give us a wee bit of an insight into your personalities: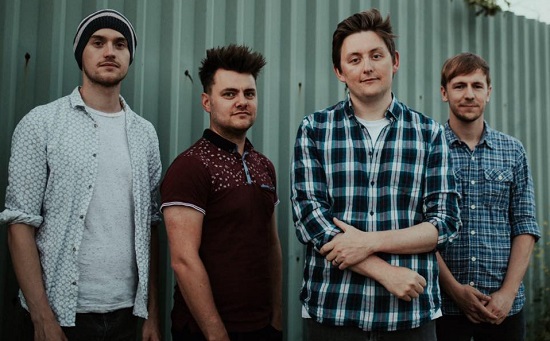 Ice cream: vanilla or strawberry?
Michael: Vanilla
Lewis: Vanilla
Gravy or curry sauce on your chips?
Michael: Curry sauce. I'm Welsh. We love curry sauce on our chips.
Lewis: I'm also Welsh, and I agree with Mike
Michael: Sweet AND salty. There should be no 'Or' in the question
Lewis: Salty on the top and sweet on the bottom. It's like main and dessert.
Michael: Iron Bru
Lewis: Buckfast, because of the memes
Michael: M&Ms
Lewis: M&M's
Michael: Over my dead body.
Lewis: Love it. it's class. Get over it.
Final question: now that live gigs are starting to get fully up and running again, I will give you your choice of any bill to be a part of. Who would be the three other bands (signed or otherwise) you would choose to play with?
Michael: For me, top of the bill would have to be Pearl Jam. My all-time favourite band, no show is the same, they never play the same set twice, everything is in the moment. And as a condition written into the contract that they have to let me duet something with them for the encore. Nothing But Thieves main support, as my favourite band of the 'new breed' so to speak – also a phenomenal live act. We'd take up the second support slot, and I'd have Chris Cornell open as a solo acoustic act – quite frankly the greatest vocalist of all time in my book.
Lewis: Biffy Clyro, Jimmy Eat World and Lonely The Brave. That's the dream.
Thanks to the lads for their time.
'Vessels' is out now. You can get your copy HERE.
www.facebook.com/coloursofone/
All content © Über Rock. Not to be reproduced in part or in whole without the express written permission of Über Rock.