By Jonny Bakes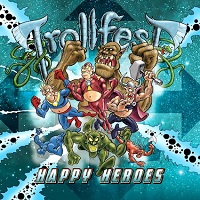 Ah Trollfest. They are pretty ridiculous, but I've been hooked on them ever since a night at HRH Metal which involved a light up saxophone, a conga line – and a man in a princess dress… Anyway, we all know that Trollfest are the kings of silly covers: you only have to look at their cover of Britney Spears' 'Toxic' (and the accompanying video) to realise that!
Recently we were graced with another great cover, this time of Bobby McFerrin's 'Don't Worry Be Happy'. It takes all that positive energy of the original and sticks it in a big old blender with Trollfest's signature "Norwegian Balkan Metal K.A.O.S." to produce a raucous cover that is both fun and hilarious! Now if you'd have told me that it was a one-off single, I would have been pretty happy, but things get even better as it turns out it's part of a whole new EP – 'Happy Heroes'.
'Happy Heroes' is a four-track little tease of an EP consisting of a new original song, the title track 'Happy Heroes' and a further two covers to join 'Don't Worry Be Happy' (coincidentally a previous ÜR #VideoOfTheWeek but now pulled by YouTube for copyright reasons – Ed). I guess you could loosely call this a "concept album" too, with all of the included covers referring to either happy or heroes. But, I hear you cry, what are the other two covers?
Well, let's look at the first of those, which was originally recorded by one of Norway's greatest musical exports. No, I'm talking about Ylvis or Dimmu Borgir; I'm, of course, referring to Lene Nystrøm of 90s pop sensations Aqua! That's right, we've got ourselves a ridiculous cover of 'Cartoon Heroes' featuring Miriam Renvåg Müller (aka Sfinx) on guest vocals to fill the shoes of Lene. It's one big nostalgia trip, that has been seamlessly enveloped into that heavy jolly carnage that Trollfest do so well!
The other cover? Well, it doesn't get much better than Pharell Williams' 'Happy' which gets a good dose of the K.A.O.S treatment to round off a brilliantly silly EP. Combined with the original track 'Happy Heroes', which itself is a seriously jolly song even makes me want to get up and dance around flailing a tankard of ale all over the place, the 'Happy Heroes' EP is the perfect antidote for these shitty times!
All in all, yeah 'Happy Heroes' is pretty dumb – but that's exactly what I love about it. It's dumb and it's happy and that's exactly what I think everyone fucking needs at the moment! I have no shame in saying that I've been blasting this out ever since I picked it up and will probably continue doing so for a good while yet! This is definitely an album for those who like the less serious end of Napalm Records' roster, like Alestorm, Nanowar of Steel, Windrose… the list goes on! It's balls out heavy folk metal with buckets of silliness and the surprise saxophone – and I'm totally here for it!
'Happy Heroes' is released on Friday (19 March). You can get your copy HERE.
www.facebook.com/trollfestofficial
All written content © Über Rock. Not to be reproduced in part or in whole without the express written permission of Über Rock.