By Jim Rowland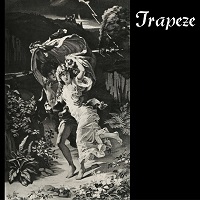 One member went on to join Deep Purple (and a whole lot more besides), one joined Judas Priest, and the other Whitesnake. They were West Midlands rockers Trapeze – Glenn Hughes, Dave Holland and Mel Galley, and you could argue that Trapeze are best known for producing those musicians rather than for the music they made. Well now is the perfect opportunity to explore Trapeze more closely with these wonderful expanded reissues of the three albums they made in their initial tenure on The Moody Blues' own Threshold Records label at the start of the '70s.
Released in May 1970, and produced by The Moody Blues' John Lodge, the debut album, 'Trapeze', veers closer to the late '60s psychedelic rock and progressive pop of their Moody Blues mentors rather than the blues and soul infused hard rock that Trapeze would become better known for. At this point they were also a five piece, with John Jones (vocals/trumpet) and Terry Rowley (keyboards/guitar/flute) lining up with Hughes, Holland and Galley. It's a different beast compared to what was to follow, and its psychedelic prog pop sound is very much of the time, but remains a fine album in its own right. From the meandering, bouncy keyboard-driven progressive pop of 'Fairytale; Verily Verily; Fairytale', the huge harmonised vocals of 'Over' and the harder-edged and quite excellent 'Suicide' to the mellower moments like 'Am I', 'Nancy Gray' and the dreamy 'Another Day', there's plenty to like here.
The hit single of the time, 'Send Me No More Letters', ironically sounds the most dated and saccharine of all the original album's tracks. As with the two other reissues, this one comes packed with a multitude of bonus material. The UK and US single versions of 'Send Me No More Letters' are included, along with BBC sessions, demos of tracks that didn't make it on to the album, and a very interesting 1969 live session for the BBC's 'Colour Me Pop' program where the band run through Steppenwolf's 'Magic Carpet Ride', Fairport Convention's 'Meet On The Ledge' and The Nazz's classic nugget, 'Open My Eyes'.
As per their self-titled debut, 'Medusa' was produced by The Moody Blues' John Lodge at Morgan Studios in London, and released in November 1970, a mere six months after the first LP. By now, Trapeze had scaled down to the power trio of Mel Galley, Dave Holland and Glenn Hughes, finally finding their definitive sound, with a mixture of blues, soul and hard rock, wrapped around seven original songs. It's a huge leap forward from the debut, and all the more remarkable considering that leap took place within six months. With the keyboards gone, the guitar of Galley really comes to the fore, as do the vocals of Hughes.
The single 'Black Cloud' is a prime slice of soulful, driving hard rock that brings then-contemporaries Free to mind, whilst the mini-epics of 'Jury' and 'Medusa', both highlights, combine progressive leanings with the kind of heavy riffing Black Sabbath and Uriah Heep were knocking out at the time. 'Your Love Is Alright' and 'Makes You Wanna Cry' hint at the funkier direction that would be explored on the next album. This re-issue is expanded to a three CD set, with stereo and mono edits of the 'Black Cloud' single plus three different live concert recordings from 1970 and 1971. Although each of these albums has its own merits, it's probably fair to say 'Medusa' is the pick of the bunch.
'You Are The Music. We're Just The Band' was released in 1972 and was the final album to be released prior to Hughes' departure to Deep Purple the following year. Although tracks like 'Keepin' Time' and 'Way Back To The Bone' still pack a heavy punch, a soul and funk influence permeates this album, illustrated by the very funky title track, and the 'Coast To Coast' single signalling the start of Glenn Hughes' 'Stevie Wonder-isms' creeping in. A great album, and a strong follow-up to the outstanding 'Medusa', this issue also comes as a three CD set with a whole host of extras including a couple of rare non-album tracks and loads of live recordings from 1972 and 1973, including an 'off-air' BBC Radio One concert recording, all with very good sound quality.
Following Hughes' departure to Deep Purple, Trapeze would carry on with various line-ups over the years, including sporadic reunions of the 'classic' line up, but it's this initial era and these albums that they will really be remembered for. If you're an old fan, these issues are worth investing in for the extensive extras alone. If you're not that familiar with Trapeze, but perhaps more familiar with what Glenn Hughes did afterwards, these need to be checked out, as all three albums are real quality. As ever, Cherry Red have done a cracking job unearthing as much bonus material as they could lay their hands on and packaging them really well, with each issue having extensive booklets with rare photos, memorabilia and liner notes, including commentary from Glenn Hughes himself. Most highly recommended.
'Trapeze'/ Medusa'/'You Are The Music. We're Just The Band' are re-released this Friday (18 September). You can get your copies HERE.
www.facebook.com/CherryRedRecords
All content © Über Rock. Not to be reproduced in part or in whole without the express written permission of Über Rock.