Taking Back Sunday have announced a run of dates as part of their 20th anniversary celebrations: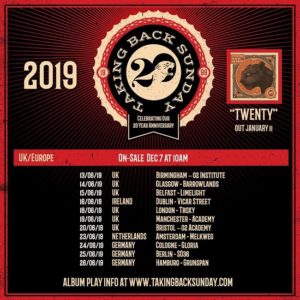 Tickets for all shows are on sale now from all usual outlets.
They also have released a new single, 'All Ready To Go':
https://www.youtube.com/watch?v=cCifaniyrDo
The single is taken from the forthcoming compilation album, 'Twenty', which features tracks from all seven of their studio albums, plus two new tracks. You can pre-order your copy HERE.