By Jason Walker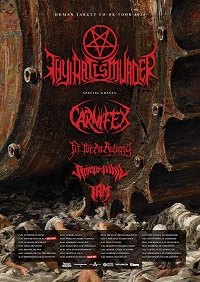 For anyone who is remotely interested in death metal, the line-up for this tour is completely obscene. Featuring bands which are currently the biggest trailblazers in modern death metal and not beholden to traditions or convention, this gig promises to be one of the most brutal shows that's ever came through Academy 2.
I Am kick us off tonight to a smallish audience but not like they care one bit, the band conducts themselves like they're playing to thousands. Their guitars are down tuned so much and have that much low end it sounds like boulders smashing together, bloody hell. Their singer, who is absolutely hench by the way, is fantastically animated as he stomps around on stage shouting at the audience – he actually reminds me a bit of Andrew WK. Only afforded a short set as with the amount of bands on this bill, they've done a solid job with getting the place warmed up as more people fill up the room.
Rivers Of Nihil, not wanting to muck about, go straight into double bass pedal "smash your face in" blast beats, and the audience is eating it up from the word go. If there's one thing that surprises me every single time I've seen these guys is how incredible Jake's vocals are electrifying, genuinely one of the few singers that can match their studio productions in a live environment. As with a lot of Rivers' music, each song ebbs and flows between dreamy soundscapes and outright relentless chugs which make for this gigantic wall of sound that makes their live shows a real treat. Finishing the set with 'Where Owls Know My Name' It's truly an amazing thing to see them move to a larger stage and I hope they continue on the upward trend they're riding; they deserve it.
After some comedic back and forth sorting out what does and doesn't need to come through the monitors, Fit For An Autopsy start with an atmospheric intro track before hitting the crowd with their latest album's title track, 'The Sea of Tragic Beasts'. These guys alongside Shadow of Intent and Harbinger, are more or less the bands that got me into Tech Death and they're putting on a fantastic display right now. It's fantastic seeing them command a stage of this size after their previous headline show at Rebellion in Manchester and there's barely a single head that isn't enthusiastically headbanging away to them.
With another track from their latest, 'Mirrors', they've clearly got the attention of this crowd which I'm really happy to see honestly. Being on a line-up like this alongside Carnifex and Thy Art Is Murder, they should pick up some solid fans here.
Carnifex kick off and within seconds there's a gigantic pit in the middle of the room that's threatening to swallow the rest of the crowd up. The light show is solidly shades of red at the moment which accents the terrifying noise they're kicking out, a mix of blast beats, synths and chugs and they're just absolutely wrecking the place!
The crowd interaction by singer Scott is on point and he's got them wrapped around his little finger. He says jump and the crowd bounces along, he tells them to pit and people go wild, he shouts to scream and the audience raises hell. They're putting on an excellent show, it sounds great. If you want a "death metal gig 101" then Carnifex are most definitely it.
Thy Art Is Murder play the Vengaboys' 'The Venga Bus is Coming' before taking to the stage: not super surprising given their habit for shenanigans. An air raid siren goes off and the ENTIRE front half of the room erupts into a moshpit to the tune of the musical armageddon that's just started. As I write this, we're barely two songs into the set and this is quite possibly the most bonkers crowd I've ever seen in this venue, even after the likes of Polaris and Northlane last year.
I think I've already lost count by this point how many times I've been hit by an airborne beer, this is crackers in the extreme. This entire show so far is a visceral experience that's a mix between the incredible sound of the band, having to maintain some sort of spatial awareness so I don't get sent flying by a stray part of the crowd and wondering how long it'll be before the floor gives way because I can feel it bouncing underneath me. There's something that definitely needs to be said for massively charismatic frontmen, CJ is a force to be reckoned with, as he sings his posture is terrifying and when directing the audience he knows exactly the reaction he wants – also imagine wearing a leopard print shirt and still being able to look that metal.
Thy Art Is Murder have come and absolutely smashed Academy 2 to bits. I figured it'd be hard at this point to top some of the other shows I've seen here but this takes the top spot on the "absolutely bananas" list.
The tour continues at the Garage in Glasgow tonight (Monday 27 January) and then hits Stylus in Leeds tomorrow (Tuesday 28), SWX in Bristol on Wednesday (29) and Electric Brixton on Thursday (30), finishing at the O2 Institute in Birmingham on Friday (30).
All content © Über Rock. Not to be reproduced in part or in whole without the express written permission of Über Rock.