By David O'Neill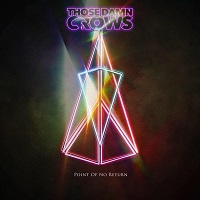 The Crows had a phenomenally successful 2019 on the back of their first album, 'Murder And The Motive', which highlighted in three sets at Download.  The question everyone was asking was could they follow up that success with a second album.  I'll leave the answer to that for a while…
If the ticket sales for their headline tour are anything to go by, with all but one of the dates sold out well in advance, then its gonna be another fabulous year for the boys from Bridgend.  The new album has a wide variety of styles and this has been readily demonstrated by the first four teaser tracks released on Spotify.
The first track on the album, 'Who Did It?' has a serious Black Stone Cherry feel to it but it's a cracking opener.  The standout track for me is the slower Never Win which has crossover to UK singles chart written through its sound.
Whilst the band has its own style, carried throughout by the outstanding vocals of Shane Greenhall, every one of the band are consummate musicians.  What's more, they all get chance to demonstrate this, with every one of them given opportunities to shine, from the powerful drumming of Ronnie Huxford and solid driving bass lines of Lloyd Wood as well as the lead guitar of Ian "Shiner" Thomas and rhythm work of Dave Winchurch.  It is a superbly crafted piece of pop-rock which will have the crowds singing along at all the gigs.
Whilst superficial listening makes you think, hmm that's a good track, local knowledge soon makes you realise that 'Who Did It?' for example is a seriously critical dig at the press reaction to a series of suicides in the boys home town a few years ago.
Thirteen tracks – not one bad one and several stand out tracks.  Is this a good second album? Hell yeah! Outstandingly good.
'Point Of No Return' is released on Friday (7 February). You can get your copy HERE.
Those Damn Crows kick off their (mostly) sold out tour tomorrow (Tuesday 4 February). Limited tickets remain for the final show at the Tufnell Park Dome.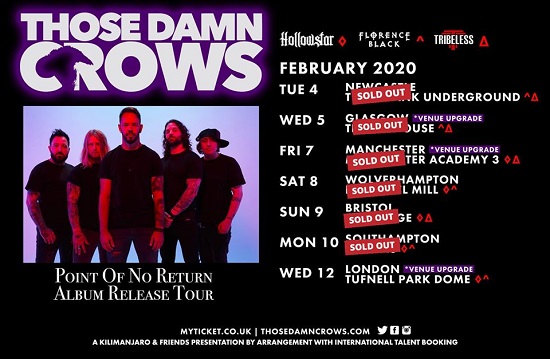 www.facebook.com/thosedamncrows
All content © Über Rock. Not to be reproduced in part or in whole without the express written permission of Über Rock.