By Jase Walker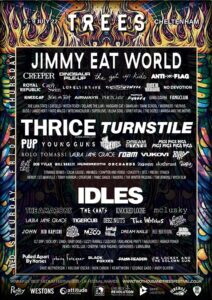 With 2000 Trees looming ever closer, my hype levels for one of the most eclectic line-ups of any festival I'm going to this year are building up to insane levels. The amount of absolute gems on this line-up, ranging from established greats to up-and-coming powerhouses is incredible and making the choice between some of them has been hard but I've got eight acts throughout the three days that I cannot afford to miss.
This is my first time at 2000 Trees. Although I've been to its sister festival ArcTanGent before and had an immense time, I feel like the vibe at trees is going to be markedly similar due to the people that run it being the same. I've got my clashfinder all filled out and ready to go, so here's my run down of my standouts, in no particular order:
Nova Twins (Saturday, Main Stage)

I refuse to get over how absolutely obsessed I have become with these since seeing them supporting Enter Shikari and a follow-up show at Slam Dunk as stage headliners, so there's not a chance i'll be missing bouncing around in their pit in the middle of the day on Saturday!
Ithaca (Thursday, The Cave)

It's a bit of an odd one how quickly I've gone from not being super buzzed about hardcore to finding myself getting massively into it and I think Ithaca are a big reason for this. I'll no doubt be getting into camp, dropping all my stuff in my tent without much thought and going wild in their pit!
Jimmy Eat World (Thursday, Main Stage)

One ticket to the teenager years nostalgia train please. I want those feel-good vibes to wash over me as I lose my voice to their biggest bangers, I don't doubt for a second they're going to deliver!
Chapter and Verse (Friday, The Axiom Stage)

God, I love this band, I love them so much. Part of the pop infused core scene that I've become enamoured with over the past couple of years, such a delight to listen to and I can't wait to be stuck in the middle of their pit going wild to them.
Rolo Tomassi (Friday, The Cave)

One band that I will never pass up the chance to see live. A band that I fully intend on getting into my ears at legitimately any available opportunity, please, please melt my face off. I can't get enough of Rolo Tomassi.
Vukovi (Friday, Neu Stage)

Another band that I have come to absolutely adore, every single thing they've done is complete gold to me. Janine and Hamish create some of the most bouncy music i've ever heard, laced with some pretty heavy topics in the lyrics, it's a solid mix of pop sensibilities and punk that compels you go to wild.
Press to MECO (Saturday, Neu Stage)

A surreal mix of prog and punk and post-hardcore, with a little sprinkling of Fall Of Troy in there for good measure. An incredibly fun band to watch and always do a fantastic job of getting the crowd involved, I challenge you to go watch these and not leave with a silly grin on your face.
The Chats (Main Stage, Saturday)

Hilariously Angry Aussie Punk. That's all you're getting.
2000 Trees takes place at Upcote Farm, outside Cheltenham, next weekend.
All content © Über Rock. Not to be reproduced in part or in whole without the express written permission of Über Rock.