By David O'Neill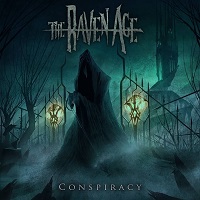 Having supported Iron Maiden and Tremonti on the back of their first album, the five-piece from Harlow, London set about delivering this stunning concept album ahead of their headline tour, which kicks off next week.
Twelve songs that leap and fall from metal to alt rock and many other styles in between take you on a journey through the dark story woven throughout the lyrics of each track.
The opening instrumental acoustic, 'Bloom Of The Poison Seed' has two acoustic guitars playing over the top of an orchestral arrangement that gives you no clues as to what is about to be unleashed other than it is an extremely well composed and exceptionally well played piece.
Then BAM! Straight into the machine gun drumming and rapid-fire guitar playing that is associated with NWOHM/alt rock style of 'Betrayal Of The Mind'.  Even this has a light and dark journey through a variety of styles that reminds me of Bullet For My Valentine crossed with Nothing More.  The vocals and harmonies are also exceptionally good. Despite this analogy there is very little screaming throughout the entire album.  Matt James has a very good vocal range and style that is well suited to the musical genre.
'Fleur De Lis' hammers along telling the story of an individual who appears to be coerced into playing a part in someone else's war.  The guitar playing varies its style throughout the album and even within the individual tracks when it occasionally goes from heavy rapid-fire drop tuned rhythms and solos to light and airy shimverb styles that reminded me of Periphery style playing.
The light and shade delivered in this album is as opposite as day and night, but it works so very well that you cannot stop yourself listening out for the next change.  I have to say that many of the changes must be to give the drummer Jai Patel a break because his hands and feet must be a blur when he is playing live (I'll find out on the first night of the tour).
This album combines much of what I like in music, good lyrics, a story to follow, exceptional composition and instrumentation across a wide variety of styles and even though it is predominantly one genre the variety and skill with which it is executed will put this high on my list of possible Über Rock albums of the year.  If I had to be drawn into giving it a score, oh go on then, 9/10!
If you like any live music and these guys are in your area, get off your backside and go see them. If the album is anything to go by you will NOT be disappointed.
'Conspiracy' is out now. You can get your copy HERE.
The Raven Age 'Conspiracy' tour kicks off at The Fleece, Bristol on 20 March: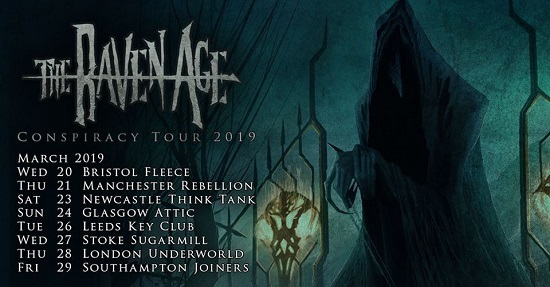 All content © Über Rock. Not to be reproduced in part or in whole without the express written permission of Über Rock.